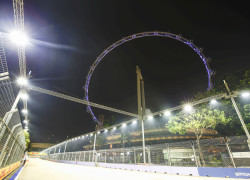 We are in Singapore for Round 13 of the Formula 1 World Championship which takes place at the Marina Bay Street Circuit.
The Marina Bay Circuit is one of the most intense tracks on the Formula 1 calendar and not only is it a mental challenge for the drivers but the physical side of it comes into play much more in Singapore. The humidity that hangs in the air makes things rather uncomfortable for a driver in the cockpit. Couple that with a long race that lasts almost two hours and you have one of the toughest races on the calendar.
The Marina Bay Street circuit with its 23 corners is the second slowest track of the season, with the slowest being Monaco. The rear tyres are worked very hard around the street circuit as the cars require the mechanical grip from the tyres for traction out of the slow corners. Drivers will also depend heavily for front end grip under braking to get the car pointed in the right direction.
Pirelli have brought the red super soft(option) and yellow soft(prime) tyres to the Singapore Grand Prix. The high working range soft tyre will suit the higher track temperatures. Pirelli say that a three stop strategy is most likely and the performance gap expected between the two compounds is between 1.8s and 2.2s.
The tropical climate of Singapore brings in thunder showers during the afternoons with high humidity throughout the day. Thundershowers are expected each afternoon before the practice and qualifying sessions which will wash the track of any rubber that was laid down. This will present the drivers with a green track almost every session.
Despite it being a night race, ambient temperatures rage in the mid-to-high twenties. Track temperatures are expected to drop significantly in the evenings.
All three days are expected to be dry in the evenings with some cloud around on Friday and Sunday. Saturday nigh is expected to be clear. Temperatures for all three nights will hover in the mid-to-high 20's.
Much has been said about the haze in Singapore at the beginning of the week. While conditions are expected to improve for the Grand Prix weekend there will be some degree of haze around the city.
Photo by courtesy Pirelli