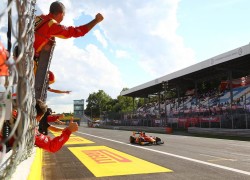 The Manor F1 Team announced on Wednesday afternoon that it has signed American Alexander Rossi for five of the remaining 7 rounds of the Formula 1 World Championship.
Rossi(23) will replace Roberto Merhi and will make his debut at this weekends Singapore Grand Prix. He will race at Singapore, Japan, America, Mexico and Brazil. He will not race for Manor in Russia and Abu Dhabi.
Merhi who will make way for Rossi will be part of the team in a reserve driver capacity and will be in the car at Sochi and Abu Dhabi.
Rossi becomes the first American driver in F1 since Scott Speed who drove for Toro Rosso in 2007 and is by no means a new face at the team. He was the teams reserve driver for 2014 and took part in Free Practice 1 at the Belgian Grand Prix.
"I'm very thankful to race for the Manor Marussia F1 team and for their continued belief in me," said Rossi
"I've been prepared for this opportunity for quite a while now.
"Many will know from 2014 that the team and I already have a strong relationship and there's a bit of unfinished business for me here.
"This is a small F1 team that has been through so much. They exemplify passion and true strength of character, and their comeback this season is extraordinary.
"I'm honored to be part of this legacy and their continued growth and success.
"Singapore is a circuit I really enjoy and the timing of my debut could not be more perfect. There's a lot of work ahead and I'm looking forward to a busy end to the 2015 season."
Manor Team Principal John Booth had this to say about Rossi's signing: "We are delighted to sign Alexander as Race Driver.
"He is widely-regarded as a driver who is on the cusp of an exciting F1 career and his current form in the GP2 Series has done much to reinforce his clear potential.
"Signing Alexander is a continuation of our proud record of providing young drivers with the opportunity to showcase their talents.
"We believe he will do a great job and look forward to seeing him race for the first time this weekend in Singapore."
Booth went on to thank Merhi for his professionalism in the matter noting that the Spaniard understands the situation. He also said that the team have not yet finalised their 2016 driver line up.
"While Roberto is obviously disappointed, he understands that this decision is in the long-term interests of the team and we thank him for his professionalism," Booth added
"No decision has been made regarding our 2016 driver line-up and we will continue to evaluate our options during the remainder of the season."
Photo credit: Manor Formula 1 Team