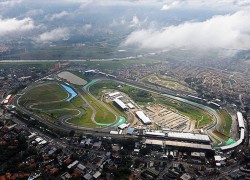 The Autodromo Jose Carlos Pace formerly known as Interlagos has hosted the Brazilian Grand Prix since 1990 and has, marked the end of the Formula 1 season. For the second year now, the circuit hosts the penultimate race of the season and round 18 of the Formula 1 World Championship.
At the end of last year, the circuit underwent a major upgrade to the pit complex and so the track surface. The upgrades were scheduled to be complete before the teams reach Brazil this year. Some of the upgrade was still going on as the teams started arriving but the Grand Prix will go ahead as planned.
On the tyre front Formula 1 tyre supplier, Pirelli, are bringing the Yellow soft and White medium compound tyres to Brazil this year. This is the same compound that was chosen last year. They expect the surface to be vastly different to the previous races but they have stuck with the safest tyre option available to them.
With the slow middle sector mechanical grip will be required to power out of the slow corners while in the first and 3rd sectors the cars will depend on aerodynamic grip through the medium speed corners. A good balance between mechanical and aerodynamic grip will be required at the Autodromo Jose Carlos Pace where teams tend to run quite high down force levels.
Initial forecasts for the weekend were very good forecasting sunny weather with a few thundershowers. The forecast at the time of writing had changed slightly with more thundershowers forecast throughout the weekend with temperatures still quite high.
Forecasts suggest that the practice sessions, qualifying and the race fall just outside of the rain window. Temperatures will range from the mid 20s to low 30s with Friday forecast to be the hottest. Apart from the spots of rain that is forecast, expect most of the weekend to be sunny and hot.