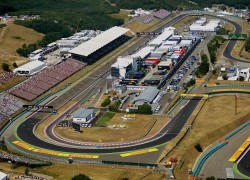 We head over to the Hungaroring in Budapest, Hungary with heavy hearts ahead of the Hungarian Grand Prix.
Drivers up and down the grid have payed tribute to Jules Bianchi and will honor him in the best way they know how. To race all out on Sunday.
The Hungaroring is situated in a valley in Mogyorod, Hungary just north of Budapest. Construction on the circuit began in Octer 1985 and was completed in just 8 months. The inaugural race was held on 24 march 1986 and has since hosted the Hungarian Grand Prix. Over the years the circuit has undergone a few changes and modifications. The biggest change was made at Turn 1. Previously Turn 1 was a mirror of Turn 14. This was modified in 2003. The radius of Turn 1 was made a bit tighter to encourage overtaking.
The circuit is characterised by medium and low speed corners that requires mechanical as well as aerodynamic grip which is why teams tend to run high downforce on their cars. With only one line through the slow parts of the circuit overtaking comes at a premium around the Hungaroring but it is not totally nonexistent. Turns 1, 2 and 12 are popular overtaking spots. There have been passes at other areas of the circuit but those are the exception.
With temperatures expected to be on the high side this weekend Pirelli have brought the white medium(prime) compound tyre and yellow soft(option) compound tyre. The one long straight on the circuit means that the tyres do not have significant time to cool which leads to thermal degradation on the tyres. Following another driver close by will lead to much quicker degradation on the tyres with the lack of front grip. Pit stop strategy will play an important role during the race.
The weather for the Hungarian Grand Prix can be described in one word. Hot. Temperatures are expected to hover in the mid 30's for the Friday and Saturday sessions. The mercury is expected to peak at 34 Degrees Celsius on Friday and 36 Degrees Celsius on Saturday. A 40-50% chance of thundershowers are expected for the end of Free Practice 1 and Free Practice 2. There is no rain forecast for Saturday. A 40% chance of showers is forecast for the start of the race on Sunday with temperatures dropping to a cooler 28 Degrees Celsius. Keep an eye on the changing conditions with our live weather forecast below.