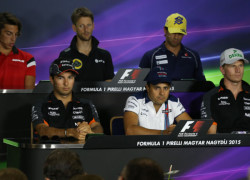 The Formula 1 circus heads into Hungary with heavy hearts this weekend with drivers paying tribute to the Frenchman ahead of the Hungarian Grand Prix.
Felipe Nasr: "I met Jules on one occasion only but we shared the track in this go-kart race that Felipe [Massa] does, or used to do, every year. It was really the first time I got in a conversation with him and you could see the guy was special.
"Not only as a person – for sure he had a good heart inside of him – but all his techniques, all the junior categories he had been through. As everybody mentioned he was a real reference to all of us.
"Especially for me, I was always a few years behind him because we didn't have the same age. But you could definitely see he had all the ingredients to be a very good driver and to fight for something bigger in the future. I have all the respect for him, even though I didn't know him so well and I wish the best for his family as well."
Sergio Perez: "I met him when we were both in GP2. When I really spent more time with him was in the Ferrari Academy, when we were both doing the Ferrari Academy.
"You could see Jules was a very special driver but also a very special person that everyone seemed to like. He was just very humble and very human as well and he really left a big impact on the world. I think we all share the same opinion.
"I think Jules was a very special driver that didn't have the opportunity to show what he could do in Formula One in his short period. It was just enough to realise that he was a potential champion for the future. He was just a very, very special driver.
"It's very sad, you know. As drivers we share many moments – every Sunday, every Friday afternoon in the drivers' briefing. We're not the best friends but we always share moments. We do the same, all of us. We see each other every 15 days or so during the whole year, so we spend a lot things together and not to see him ever again, it really shocks you. It's very, very hard for all of us – I'm sure not only for the drivers, but for everyone involved in the sport – to lose someone, because you know you could be there, it could be your family.
"I was talking the other day to his father and it's just very, very difficult for the whole family. But his family is our family now and we really want to support them in any way because Jules will stay with us forever. I think what Jules did for the sport… he was just a great ambassador for us and he will always be in our hearts."
Romain Grosjean: "Well, as you can imagine, I've got questioned a few times. I cannot pick up a favourite memory because I've got too much with Jules.
"I think the first time I heard his name was back in 2003. He was a much better driver in go-karts than I was; he was a bit younger.
"Then he did follow up in all categories what I did and he won everywhere.
"I think we shared a lot with Jules. It was a very nice ceremony. It was very emotional. His parents were, I think, happy to see us. Of course, this week all our thoughts go with him but personally I will never forget that we race and we race for Jules as well."
Nico Hulkenberg: "He's been my team-mate twice, in 2008 in Formula 3 and 2012 in Formula One here.
"I remember in 2008, I was in my second in Formula 3, supposed to win the championship and he came in as a rookie, his first year. I remember his race in Mugello, I was starting from pole and he was starting second or third. Anyway, we take off, I'm leading, he's second and I'm seeing him in my mirrors, pushing really hard, really chasing me down, trying to get me. He was burning his tyres at the time, I was saving them, but it just showed how competitive he was and he was so hungry for success.
"Even outside the track he was a great guy, a lot fun, a lot of great moments together and we'll all miss him."
Roberto Merhi: "The first time I met Jules was in 2002 in a karting race. It was a race in Spain and he was coming from France and normally when you are that young to come to a track that you don't know, in Spain, that you have never raced, it's very hard to be quick and I remember I was really surprised to see that guy that was really quick immediately on that track.
"He really impressed everybody. After that I followed him really closely. He was always the driver – the reference. He was all the time the quickest and doing really great things.
"Obviously, when I jumped into Formula Renault in 2007 we did a few races together because he also jumped in 2007 to Formula Renault and again he won straight away; his first year in the championship. It was pretty incredible, no?
"For me he was the biggest talent I saw in motorsport. Also, when I raced, back in 2009, with an F3, we were fighting against him because he was the man to beat that year and he won the championship with so many good drivers on the track and he won it really easy; just winning so many races. I think that shows how good he was and for me it's, to be honest, really a shame that he was not able to really show in an F1 car what he was able to do, because I think he was the best driver that I raced against and it's a bit of a shame what happened in Suzuka, but hopefully he's in a good place and enjoying."