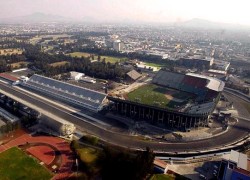 Formula 1 returns to the Autodromo Hermanos Rosdriguez after a 23 year hiatus for round 17 of the Formula 1 World Championship.
The circuit is fairly technical with a mix of slow, fast and medium speed corners. It has two long straights where cars are expected to reach 330km/h. At the end of the two respective straights are heavy braking events that will test the brakes and tyres. The tyres will be tested further through sector 2 through the esses and through the technical stadium section in the final sector, which has a similar feel to the stadium section in Hockenheim. The final corner used to be a long, full throttle, slightly banked right hander. It has now been modified to keep half of the corner, with the other half passing through the stadium section which should make for some spectacular viewing for the fans.
Without any real track data to work with, Pirelli have relied heavily on simulations and data collected at the track. They have nominated the the white medium(prime) and yellow soft (options) compound tyre for the race weekend. This is the safest tyre choice Pirelli could make considering the characteristics of the track. Pirelli are hoping for a two stop race with a projected gap of 1.3s a lap between the compounds.
With Hurricane Patricia battering the Mexican West Coast last week the weather is expected to clear up for the race weekend with temperatures quite mild the entire weekend. Afternoon thunder showers are forecast for all three days with the mornings clear and sunny. Temperatures will remain in the low 20s with occasional could cover. We can expect it to remain dry for all the sessions but with the odd thunder storm, we could be surprised.
As always we have our weekend snap shot and out live forecast