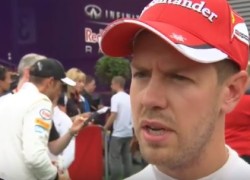 Sebastian Vettel has slammed Formula One's updated radio restrictions as "complete bullshit" after the FIA tightened the radio rules ahead of this weekend's Hungarian Grand Prix.
According F1's sporting regulations, drivers must drive their car "alone and unaided". The rule however has been put under the microscope following the British Grand Prix where Nico Rosberg was demoted from 2nd to 3rd place following a breach of the regulations. The Mercedes pitwall had informed Rosberg on how to fix a faulty gearbox towards the end of the race, which ensured that the German avoided having to retire his car from the race.
Teams must now call a driver in to the pits if he suffers a similar issue. Teams will be allowed to advise drivers while they are driving through the pit lane, effectively resulting in a drive-through penalty.
Vettel told the media that the new rules are, "Complete bullshit. I think all the radio issues we had, I think it's a joke. I looked at the race after and I found as a spectator it was quite entertaining to hear a driver a little bit panicking on the radio and the team panicking at the same time.
"I think it puts the element of human being in our sport that arguably is very complicated and technical, so I think that's the wrong way. There's a lot of boring stuff on the radio that got banned, I don't see the point, I think if you want to change it you should change the cars. I have no problem, let's go back to V12s, manual gearbox, two buttons, one for pit speed limiter and one for radio just to confirm when we are coming in and other than that, not much electronics to look after, which there's no point then to memorise a lot of things."
Vettel also insists that F1 drivers should not be punished for how technical other people have made their cars, highlighting how much steering wheels have changed since the 90s.
"I think all of the buttons that we have on the steering wheel today are there for a reason. It's not like 'ah yeah, we can build buttons, let's put them on the steering wheel', so I think if you just look at a 1995 steering wheel for example, or speak to a lot of experts that are still around in the paddock, what they raced with, it was a simpler just because the cars technology was a lot simpler. It's not our mistake, as in the drivers, that the cars are so complicated these days that they need a manual this big and a steering wheel full of buttons to operate it. I think we're going a little bit in the wrong way so that's why I think it's bad and we should just go back to being able to say what we want."