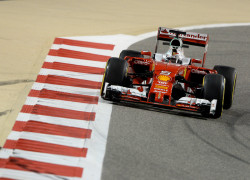 Sebastian Vettel finished fastest of a Ferrari 1-2 in the third practice session for the Bahrain Grand Prix.
Vettel went 0.040s faster than his team mate Kimi Raikkonen to set a 1:31.683 on the super soft tyres. Raikkonen, who was the fastest for a while after going faster than Nico Rosberg and Lewis Hamilton on the soft tyres, set 1:31.723 on his best lap for the afternoon on the super soft tyres. Although the conditions were not representative of the qualifying session which will take place a little later, it does seem that Ferrari have found some pace after a very scrappy day yesterday.
The two Mercedes drivers finished 4th and 5th with Rosberg ahead of Hamilton by o.044s. The Williams of Valtteri Bottas finished 5th fastest with Haas' Romain Grosjean in a very respectable 6th with a 1:32.675 which is 1.399s off Vettel's time.
Daniil Kvyat finished 7th fastest for Red Bull ahead of Esteban Gutierrez in the other Haas car in 8th. Rounding out the top 10 were Felipe Massa in 9th and Daniel Ricciardo in 10th.
After showing some strong pace yesterday during Free Practice 2 and finishing 3rd fastest, Jenson Button could only manage 13th fastest behind the Sauber of Marcus Ericsson in 11th and the Renault of Kevin Magnussen in 12th.
After suffering with an oil leak at the start of the session Stoffel Vandoorne was able to get out for the final 30mins of the session and finished 0.040s off the pace of Button after posting a very good 1:33.744 on the super softs. It looks like the McLaren favors the cooler evening conditions and we may see them finish higher up in qualifying.
The Toro Rosso's of Max Verstappen and Carlos Sainz finished down in 15th and 16th respetively. In 17th was Felipe Nasr in the Sauber.
Force India ended their session in 18th and 19th with Nico Hulkenberg head of team-mate Sergio Perez. Jolyon Palmer finished his session down in 20th and picked up a puncture after the chequered flag dropped for the end of the session.
The two Manor's of Rio Haryanto and Pascal Wehrlein closed off the order in 21st and 22nd.
| | | | | | |
| --- | --- | --- | --- | --- | --- |
| Pos | Driver | Team | Best Time | Gap | Laps |
| 1 | Sebastian Vettel | Ferrari | 1:31.683 | – | 22 |
| 2 | Kimi Raikkonen | Ferrari | 1:31.723 | 0.040 | 13 |
| 3 | Nico Rosberg | Mercedes | 1:32.104 | 0.421 | 18 |
| 4 | Lewis Hamilton | Mercedes | 1:32.160 | 0.477 | 14 |
| 5 | Valtteri Bottas | Williams | 1:32.675 | 0.992 | 18 |
| 6 | Romain Grosjean | Haas | 1:33.082 | 1.399 | 14 |
| 7 | Daniil Kvyat | Red Bull | 1:33.113 | 1.430 | 10 |
| 8 | Esteban Gutierrez | Haas | 1:33.337 | 1.654 | 14 |
| 9 | Felipe Massa | Williams | 1:33.363 | 1.680 | 18 |
| 10 | Daniel Ricciardo | Red Bull | 1:33.519 | 1.836 | 20 |
| 11 | Marcus Ericsson | Sauber | 1:33.569 | 1.886 | 16 |
| 12 | Kevin Magnussen | Renault | 1:33.617 | 1.934 | 9 |
| 13 | Jenson Button | McLaren | 1:33.704 | 2.021 | 12 |
| 14 | Stoffel Vandoorne | McLaren | 1:33.744 | 2.061 | 11 |
| 15 | Max Verstappen | Toro Rosso | 1:33.778 | 2.095 | 20 |
| 16 | Carlos Sainz | Toro Rosso | 1:34.003 | 2.320 | 20 |
| 17 | Felipe Nasr | Sauber | 1:34.013 | 2.330 | 15 |
| 18 | Nico Hulkenberg | Force India | 1:34.128 | 2.445 | 16 |
| 19 | Sergio Perez | Force India | 1:34.281 | 2.598 | 15 |
| 20 | Jolyon Palmer | Renault | 1:34.424 | 2.741 | 9 |
| 21 | Rio Haryanto | Manor | 1:35.546 | 3.863 | 15 |
| 22 | Pascal Wehrlein | Manor | 1:35.724 | 4.041 | 16 |