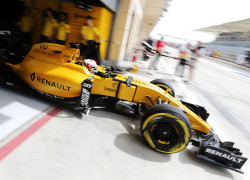 Renault's Kevin Magnussen will start Sunday's Bahrain Grand Prix race from the pit lane after failing to stop at a red light for a weight check.
Magnussen, behind Red Bull's Daniil Kvyat, was given the red light for a weight check. Because the drivers were close together, this caused a bit of confusion. Kvyat stopped when he was not supposed to while Magnussen carried on toward his pit garage. This is in breach of Article 29.1 of the FIA Sporting Regulations.
"The driver failed to stop for weighing during P2 when signalled to do so by the red traffic light, the car was not returned to the FIA garage and work was undertaken," a statement from the stewards read.
"In accordance with Article 29.1 iv) of the FIA Formula One Sporting Regulations the driver is required to start from the pit lane."
Picture Credit: Renault Sport Formula 1 Team