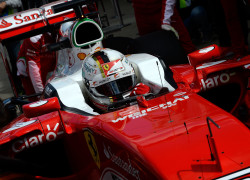 Ferrari's Sebastian Vettel finished fastest in the third free practice session for the Canadian Grand Prix.
In a session that ended a few minutes early after Kevin Magnussen crashed at the exit of Turn 7, Vettel finished fastest with a time of 1:13.919 on the ultra soft compound tyres.
Magnussen lost the rear of the car at the exit of Turn 7. He managed to catch the slide but ran out of space and road and ended up in the barrier. There is no confirmation from Renault what may have caused the crash as it looked to be at a relatively low speed. Renault now have the task of reparing the car before qualifying in a few hours time.
Second fastest was Max Verstappen in the Red Bull with a time of 1:14.158, 0.239s off Vettel's time. Verstappen was, however, compromised a bit by spots of rain that started falling just as he started his flying lap on the ultra softs. Before his lap on the ultra softs he was 0.3s off Vettel's time on the super soft compound tyres.
Rosberg was third fasetst for Mercedes with Lewis Hamilton 5th fastest. Kimi Raikkonen in the second Ferrari split the mercedes in 4th. Daniel Ricciardo ended his session 6th fastest just a little over half a second off the pace.
Carlos Sainz finished 7th fastest for Toro Rosso ahead of Fernando Alonso in the McLaren. Sergio Perez in the Force India finished 9th fasest with Felipe Massa in the Williams rounding out the top 10.
The cold ambient temperatures makes things quite tricky for qualifying later. Red Bull looked very competitive on the super softs in the cold conditions and they seem to be favoring the super softs. Mercedes are strong on the ultra softs and Ferrari are showing strong pace on the ultra softs as well. As we all know is that Mercedes and Red Bull tend to turn the engine up in Qualifying. Ferrari have been struggling to extract performance from their car during qualifying and are hoping that the are at least a little closer to the front row today.
It will be interesting to see what happens in qualifying.
| | | | | | |
| --- | --- | --- | --- | --- | --- |
| Pos. | Driver | Team | Best Time | Gap | Laps |
| 1 | Sebstain Vettel | Ferrari | 1:13.919 | – | 21 |
| 2 | Max Verstappen | Red Bull | 1:14.158 | +0.239 | 19 |
| 3 | Nico Rosberg | Mercedes | 1:14.316 | +0.397 | 22 |
| 4 | Kimi Raikkonen | Ferrari | 1:14.332 | +0.413 | 21 |
| 5 | Lewis Hamilton | Mercedes | 1:14.334 | +0.415 | 19 |
| 6 | Daniel Ricciardo | Red Bull | 1:14.487 | +0.568 | 22 |
| 7 | Carlos Sainz | Toro Rosso | 1:14.655 | +0.736 | 21 |
| 8 | Fernando Alonso | McLaren | 1:14.801 | +0.882 | 19 |
| 9 | Sergio Perez | Force India | 1:14.886 | +0.967 | 21 |
| 10 | Felipe Massa | Williams | 1:14.890 | +0.971 | 18 |
| 11 | Nico Hulkenberg | Force India | 1:14.918 | +0.999 | 20 |
| 12 | Valtteri Bottas | Williams | 1:14.985 | +1.066 | 20 |
| 13 | Jenson Button | McLaren | 1:15.023 | +1.104 | 17 |
| 14 | Daniel Kvyat | Toro Rosso | 1:15.199 | +1.280 | 20 |
| 15 | Esteban Gutierrez | Haas | 1:15.444 | +1.252 | 16 |
| 16 | Jolyon Palmer | Renault | 1:15.656 | +1.737 | 19 |
| 17 | Romain Grosjean | Haas | 1:15.704 | +1.758 | 14 |
| 18 | Marcus Ericsson | Sauber | 1:16.078 | +2.159 | 24 |
| 19 | Kevin Magnussen | Renault | 1:16.085 | +2.166 | 17 |
| 20 | Felipe Nasr | Sauber | 1:16.326 | +2.407 | 24 |
| 21 | Pascal Wehrlein | Manor | 1:16.622 | +2.703 | 18 |
| 22 | Rio Haryanto | Manor | 1:16.901 | +2.982 | 15 |
Photo credit: Scuderia Ferrari Formula One