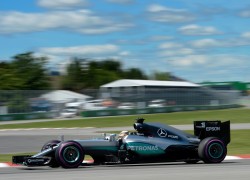 Lewis Hamilton secured his fifth Canadian GP pole position in his career by 0.062s from his Mercedes team mate Nico Rosberg.
Hamilton's first Q3 run was massively imppressive and he posted a 1:12.812 – enough to secure the top qualifying spot. He was not able to improve on his second run but Rosberg messed up his lap into the first corner, locking up, drifting and losing just a little too much time.
Vettel popped himself up into third place with a late run for it and finished a tenth of a second behind Rosberg's time.
Vettel felt that pole was possible for Ferrari today. "Going into qualifying I thought it was possible," said Vettel.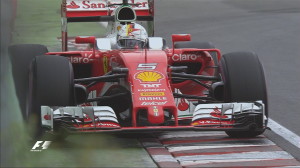 "On my last lap I was very happy in general, though maybe a little bit greedy out of Turn 10, not greedy enough into Turn 6. But there wasn't a lot to grab otherwise.
"I wanted to get below the 1:13 mark – I knew that it would be very close with Mercedes. I did that but missed out by one hundredth, so that little bit missing."
"Overall I think we have a great car, we did a step, so I'm happy with how the weekend has turned out. I feel in general very comfortable and enjoyed qualifying," he said.
Ferrari brought an upgraded turbocharger to the Canadian GP and Hamilton thinks the team can pose a challenge during Sunday's race.
"Ferrari has obviously picked up the pace with their upgrades," Hamilton said.
"This is a great track to test ultimate speed, so we're excited to have a race with them.
"Their long runs looked very strong. I don't know if they were stronger than ours – we'll see tomorrow."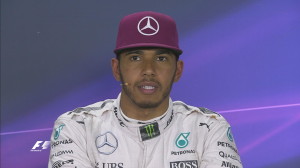 Hamilton admitted he had lossed a bit of the advantage he had over his team mate during Friday practices but was elated to have secured his fifth pole in Montreal. "To be honest it doesn't matter how far you are ahead, as long as you are ahead," he said.
Red Bull drivers Daniel Ricciardo and Max Verstappen lined up fourth and fifth with Kimi Raikkonen finishing only sixth fastest with his single Q3 effort. Raikkonen seemed less than impressed. "We improved the behaviour of the car, but still I found it hard to put a lap together," he said.
Valtteri Bottas and Felipe Massa came in 7th and 8th for Williams with Nico Hulkenberg and Fernando Alonso completing the top 10.
Sergio Perez was 11th fastest for Force India, ahead of Jenson Button who lost his chance at Q3 with a lock up into L'Epingle and managed only 12 fastest.
Daniil Kvyat finshed 13th for Toro Rosso. He will however drop 3 places as a result of a penalty for his collision with Kevin Magnussen in Monaco.
Esteban Gutierrez inched his Haas ahead of Romain Grosjean by over 2 tenths to line up in 13th and 14th positions on the grid. Carlos Sainz Jr showed some very strong pace througout the race weekend so far but he clipped the wall on his way out of the final corner during his first attempt at getting through to Q3. He broke his suspension and retired from qualifying. He finished down in 16th place but will start ahead of Kvyat due to the Red Bull driver's penalty.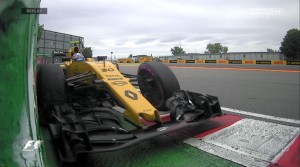 Renault's Joylon Palmer brushed his way against the wall on his wat out of the final chicane and finished 17th, ahead of Pascal Wehrlein . Ericsson and Nasr failed to get out of Q1 and Marcus will be dropping to the back of the grid due to his 3 place grid penalty for colliding with Nasr in Monaco.
Rio Haryanto got a listtle too close to the wall at Turn 4 and spun across the track – only just missing the barrier. This damaged his car though and he tried to limp back to the pits but crawled to a halt on the grass along the back straight.
Magnussen did not take part in qualifying following his crash in the final Canadian GP practice.
Final Canaddian GP Qualifying Classification :