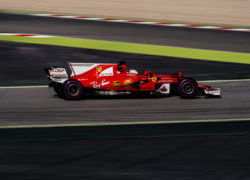 Sebastian Vettel topped the timing sheets for Ferrari on the penultimate day of testing before the start of the 2017 season.
The session before lunch was topped by Ferrari driver Sebastian Vettel who set a time of 1:19:024 on a set of the purple marked ultra softy tyres. However, what was eye-catching about the German's time was the manner in which he set it. Twice on his approach to the start/finish line he deliberately lifted off the throttle making his time significantly slower than it would've been. There could be several reasons for this approach but most point to Ferrari wanting to disguise their true pace ahead of the season-opener in Australia.
Mercedes had another good day with 147 laps between Lewis Hamilton and Valtteri Bottas. Hamilton was 2nd fastest just a little over three tenths down on Vettel's time. Hamilton also setting his time on the ultra soft tyres. Taking over in the afternoon was Bottas who completed 95 laps before calling it a day.
It was not a smooth start to the day for Toro Rosso who suffered with technical issues in the morning session. But things looked much more encouraging in the afternoon session and Daniil Kvyat was able to put in some good times and his fastest time of 1:20.416 earned him 4th fastest.
Quietly going about their business was the Haas team with Kevin Magnussen at the wheel of the VF-17. Magnussen set the 5th fastest time of the day and completed a very respectable 119 laps. Finishing behind Haas on the day was Daniel Ricciardo for Red Bull who seemed somewhat off the pace today. Red Bull have put the pace down to setup. Despite the slow pace Ricciardo completed 128 laps in the RB13.
There were yet more woes for McLaren as Stoffel Vandoorne ground to halt and brought out the red flag. The Belgian's stoppage wasn't crash related but it was an electrical issue. This comes merely a day after Alonso fingered Honda as the villain in McLaren's 2017 story. Vandoorne manage to complete 48 laps before the chequered flag and finished 7th fastest.
Both Sauber drivers were out in the car once again today with Pascal Wehrlein 9th fastest and Marcus Ericsson 11th fastest. Between the the Sauber drivers was Renault's Jolyon Palmer in 10th.
The two Williams drivers finished 11th and 12th with Felipe Massa ahead of rookie Lance Stroll. Williams concentrated on race simulations and long run tyre evaluation. They had a very good day of running and between the two drivers completed 165 laps.
Penultimate day of pre-season testing = DONE

RIC, VET, OCO, VAN, KVY and MAG – see you next time… in Australia 🙌 🇦🇺#F1Testing pic.twitter.com/O6tru4LFLc

— Formula 1 (@F1) March 9, 2017