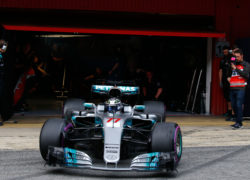 Mercedes Valtteri Bottas narrowly edged out Williams' Felipe Massa to claim the top spot of the timing sheets for the 2nd day of the second test.
While it was a good day for Williams and Mercedes, Ferrari's Kimi Raikkonen ran into a bit of trouble when he spun and hit the barriers at Turn 3. Max Verstappen kept Red Bull in the running with the 4th fastest time of the day and just 0.026s off Raikkonen's time. This despite bringing out the red flag 20mins from the end of the session at Turn 12.
Lance Stroll took over from Felipe Massa in the afternoon session. The young Canadian was 5th fastest and kept it tidy out on track today. Lewis Hamilton climbed into the W08 in the afternoon session and finished his day 6th fastest for Mercedes. Hamilton's program consisted mainly of long runs.
It was a straight forward day for the Renault team with Nico Hulkenberg finishing 7th fastest and Jolyon Palmer finishing 14th fastest. Finishing behind the Renault of Hulkenberg was Sergio Perez for Force India in 8th, Carlos Sainz for Torro Rosso in 9th and Haas' Romain Grosjean in 10th.
Both Sauber drivers were on track today with Pascal Wehrlein finishing 11th fastest and team mate Marcus Ericsson finishing 13th.
Ending his day in 12th was McLaren's Fernando Alonso who had some strong opinions about Honda's 2017 power unit.
"We have only one problem: that is the power unit.," said Alonso talking to Motorsport.com
"There is no reliability and there is no power. We are 30km/h down on the straight, every straight.
"So when you are 30km/h down on every straight it is difficult to have a feeling on the car. Everything feels good, but when you arrive to normal speed you don't know what is going to happen."
The Spaniard feels that the McLaren is still good on the chassis side and it's just the power unit that's hindering the teams fight for wins.
There are two more days of testing to go until the first Grand Prix of the season. The teams should have a very good idea of how their cars stack up against the opposition and they should be fine tuning the setup in the next two days.
TEST 2, DAY 2 = DONE

Scorching laps for BOT and MAS 👀 😮

PER and VES pass 1⃣0⃣0⃣ 👏#F1Testing #F1 pic.twitter.com/AEMYkdPWzo

— Formula 1 (@F1) March 8, 2017