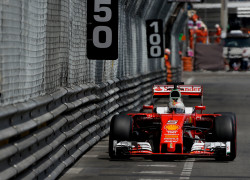 It was not the smoothest practice Monaco Thursday Practice for Ferrari after both their drivers finished out of position on the second practice session of the day.
After showing some pace in the first practice session which seen him finish 3rd fastest, Sebastian Vettel ended the second practice session in 9th.
"It was not a "clean" day in the office today," said Vettel.
"Our session was a bit scrappy: I touched the wall, damaged the rear wing, but luckily we were able to fix it and carry on.
Vettel said that he could not get everything out of the car because of his problems but he's confident that Ferrari will be better placed on Saturday.
"I just didn't get everything out of the car, couldn't find the rhythm and didn't do good laps on the Ultrasoft tires," he added
"If you look at the standings, we don't belong where we scored today. But overall the car is good and has the pace.
"So I am not worried for Saturday.
"Today our focus was not towards ranking high up, we tried a couple of things and it is fair to say that some of them didn't work. Being the first practice day, it is also difficult to see what other people did."