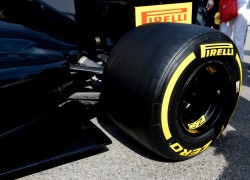 Formula One tyre supplier Pirelli gave the sport its first glimpse at their wider tyres for next season which will come into play under the revised 2017 F1 regulations. The wider tyre was unveiled in Monte Carlo ahead of the final practice session for the Monaco Grand Prix.
The new technical regulations for the 2017 F1 season see a significant increase in aerodynamic downforce which will result in faster lap times. As a result, Pirelli has opted to introduce wider tyres which are very reminiscent of the tyres of yesteryear.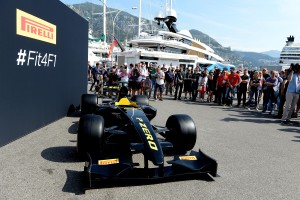 The sport would like to see a reduction in lap times of around four seconds and part of this will be made possible by the wider tyres allowing for better acceleration and cornering speeds.
The front tyre, which is currently 245mm wide, will increase to 305mm. The rear tyre will take on quite a bit more rubber, increasing from 325mm to 405mm. The size of the wheel rims will remain unchanged at 13 inches. The significant increase in tyre width will increase the mechanical grip of the cars and most likely even increase overtaking opportunities.
Pirelli will begin testing with the 2017 wider spec tyres in August.