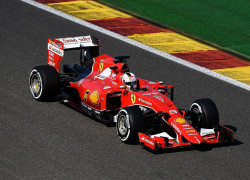 Sebastian Vettel put his 9th place qualifying finish down to a braking error into the final corner on his timed lap.
Vettel showed very good pace throughout the qualifying sessions and was placed behind the Mercedes of Lewis Hamilton and Nico Rosberg. But things seemed to go wrong for him on his final timed lap in Q3.
He lost quite a bit of time in the final sector. A mistake he says was due to him running deep on the braked in to Turn 18.
"It's very simple:  in Q2 we were third and it was very tight if you look at the lap times. In Q3 I was having the same pace," he said after qualifying.
"Unfortunately I was not able to improve like others, also lost some time at the last corner, and that's why we're not in front," he continued."
Vettel remains optimistic despite his 9th place starting spot on the grid. He feels that the SF15-T has the pace and he feels that he can finish higher up on the grid.
"For sure we're not happy, I lost two or maybe three tenths, but tomorrow we should have a decent pace and pretty good straightline speed to turn things around.
"We have a good car and a strong package for the race. There's a lot to be done tomorrow, it's a long race, the starting and first turn will be interesting and there could be some rain at some point.
"There's nothing wrong so we're expecting a progress."
Vettel's team mate, Kimi Raikkonen was forced to retire during Q2 after an oil pressure drop in the engine. Raikkonen's Ferrari came to a grinding halt  before Stavilot ending his qualifying.
"I don't know exactly what happened, I lost some drive and had to stop," explained Raikkonen after getting back to the pits.
"Tt's too early to say what the problem was, we have to wait to know more about the issue.
"Our car has been handling pretty nice all weekend, unfortunately the issue has come at the bad time, my position could have been a bit better. "
Photo credit: Scuderia Ferrari F1