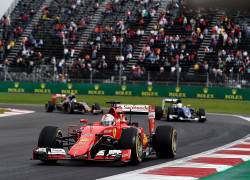 Ferrari's Sebastian took the blame for his crash in the race for the Mexican Grand Prix which seen Ferrari's first double DNF for the season and the first one in 8 years.
Vettel's race got off to a bad start when he was slow off the line and lost a place to Red Bull's Daniil Kvyat. On the run to Turn 1 Daniel Ricciardo tried to make a pass down the inside of the German. Vettel seemed to have closed the door on Ricciardo who then clipped Vettel's right rear wheel puncturing it.
Once Vettel got going again he had a spin out of Turn 7. Replays suggested that he lost the rear of the car under braking which sent him spinning into the run off area just in front of the barriers.
He continued despite flat-spotting his tyres and pitted again on lap 35 after being trying numerous times to get by Lotus' Pastor Maldonado.
On lap 50, Vettel was caught out again at Turn 7. This time locking up the front wheels and spearing straight into the tech pro barriers. Vettel got out of the car unhurt but he was very angry with himself. There was an exchange between Vettel and his race engineer where Vettel Finally said: It's not ok. I did a s**t job today."
"Today I had a bad start, and obviously after the contact with Daniel I was very angry, but in the end I think no one is to blame," said Vettel after the race.
"He clearly could not avoid hitting me being too fast for the line he had chosen, but these things happen.
"I was hoping for a safety car earlier on, but it didn't happen.
"I tried to catch up, but the two mistakes didn't help. The last one obviously ended my race and I am not proud of it.
Photo credit: Scuderia Ferrari Formula 1