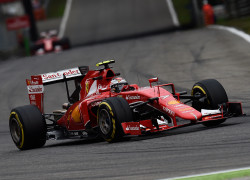 Ferrari drivers Sebastian Vettel and Kimi Raikkonen are set to take a 10-place grid drop ahead of the race on Sunday for the Russian Grand Prix following and engine change.
The confirmation of the grid drop comes after Ferrari deliberated whether to bring the updated engine to Austin after spending their remaining upgrade tokens of the season. It was initially understood that Raikkonen would get the upgraded engine because Vettel is mathematically in contention for the drivers championship. Ferrari have now confirmed that they have brought two upgraded engines to Austin and both their drivers will be running with the new units this weekend and since this will be their 5th engine for the season they will be hit with a 10-place penalty.
By taking the penalty in Austin, Ferrari have two new engines for the remaining races of the season while the team continues to work on their 2016 engine.
Vettel says that this was a planned move by the team.
"For this weekend, we are going to use our fifth internal combustion engine of the season," said the German.
"And this means we are going to pay a ten-slot penalty on the grid.
"But then this has always been the plan and has never been a big secret to us."
With this move Ferrari have no intention of pursuing a drivers championship, even though there is a slight change for Vettel to keep it alive. It's clear that Ferrari is looking ahead to 2016. If the upgraded parts work well, it will validate some of the work they've already have done for 2016.
"The decision we're taking for the weekend here in Austin should be looked at on the positive side, because we keep pushing hard for performance and so far this has worked very well," added Vettel.
"Paying the penalty may not be fantastic news if you look at this weekend in isolation of course, but if you look at the whole picture, the advantage of a fresh power unit becomes clear."