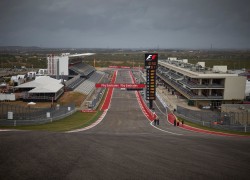 After an hour of waiting, the second free practice session for the United States Grand Prix was called off due to lightning in the vicinity and due to the fact that the medical helicopter could not take off.
10 Minutes before the session was scheduled to start, a message from Race Control was released stating that FP2 would be delayed indefinitely due to the lightning in the area. TV pictures showed torrential rains which did not let up.
While the teams and drivers kept themselves busy waiting for the rain to ease, discussions were taking place between the FIA's Charlie Whiting and Bernie Ecclestone.
An hour after the scheduled start time of the session the announcement was finally made that FP2 had been cancelled.
Much of the same weather we experienced today is expected tomorrow for FP3. If qualifying is cancelled on Saturday we could see qualifying on Sunday morning with the race in the afternoon. As it stands, the forecast for Sunday looks dry.