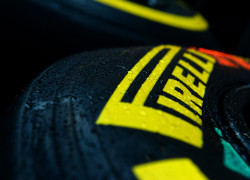 Formula 1 tyre supplier Pirelli have revealed their tyre nominations till the end of the season for the United States, Mexican, Brazilian and Abu Dhabi Grands Prix.
For the upcoming back-to-back races in Texas and Mexico City Pirelli have nominated the white medium and yellow soft compound tyres. This is the same tyre choice they had for Austin in 2014.
For the race in Mexico City, Pirelli say that their simulation data indicated that the medium and soft compound tyre will be the best choice for the new venue.
With the high temperatures expected again in Brazil this year, Pirelli will bring the white medium compound and yellow soft compound tyres to the Jose Carlos Pace circuit. The tyre choice is the same as it was in 2014.
For Abu Dhabi, like last year, we will see the yellow soft, and red super soft compound at the Yas Marina Circuit. This is a circuit that Pirelli and the teams know very well from testing.