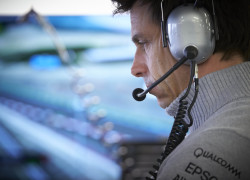 Although Mercedes secured a 1-2 finish at the 2016 Russian Grand Prix, it was anything but plain sailing for the team on the pit wall and in the garage according to Toto Wolff.
Nico Rosberg took victory finishing 25 seconds clear of team-mate Lewis Hamilton. But according to Team Boss Toto Wolff it was far from a routine Sunday for the Brackley based team. Hamilton was starting to reel in his team mate after the pit stops but shortly after was hit with a water pressure issue and was told to take it easy to manage the situation. Rosberg on the other hand continued on and opened up a gap from 7 seconds to 25 seconds at the end of the race.
After the race Toto Wolff revealed that Rosberg had been managing a MGU-K issue on his car but he too was able to manage the situation and bring the car home.
"That race was anything but plain sailing today – it was a pretty stressful experience to get both cars home, and there was a point when we thought neither of them might make it to the flag.," said Toto Wolff
"First of all, congratulations to Nico, he did a perfect job all weekend and controlled the race from the front once again. He didn't put a foot wrong and, when we faced an issue on the MGU-K during the middle part of the race, he was able to do all the necessary steps to keep it under control and bring it home.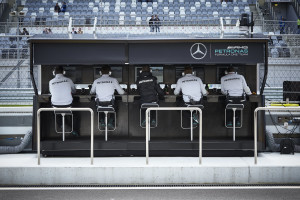 "As for Lewis, he drove brilliantly. Some really good, aggressive passing manoeuvres and clever racing brought him to P2 – and he was just getting his head down to charge when we saw a water leak and he was losing water pressure.
"The only thing to do was ask him to back off to bring the car home and fortunately that meant the situation stabilised but cost him the chance of racing Nico.
"No doubt he will be thinking about what could have been today – but it was a fantastic recovery after such a tough moment in qualifying yesterday.
"A one-two finish is always something special and to be savoured, especially with the performance advantage we enjoyed this weekend.
"We are pushing hard this year and finding the limits of our car – but we need to get on top of our issues so the drivers can battle it out on track themselves. That's what we all want to see and what we will be working hard to achieve in the coming days before Barcelona."
Photo credits: Mercedes AMG Petronas Formula One Team