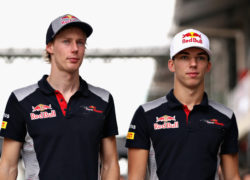 The Toro Rosso Formula One Team confirmed that Pierre Gasly and Brendon Hartley will remain with the team for the 2018 season.
Both drivers made their debut for Toro Rosso earlier in the year. Gasly made his debut at the Malaysia Grand Prix while Hartley made his debut at the United States Grand Prix.
Both drivers have had a baptism of fire into F1 with each driver receiving their fair share of engine penalties.
There was some speculation about the team line up for Toro Rosso in 2018 and as soon as it was announced that Daniil Kvyat was no longer part of the Red Bull Driver program the picture became more clear that Gasly and Hartley would feature in 2018 for Toro Rosso.
"We're really happy to have Pierre and Brendon confirmed so early by Red Bull as our drivers for 2018", commented Team Principal, Franz Tost.
"During this last part of the year they've shown that they're ready for Formula 1, getting to grips with the car quickly, showing good performances and always demonstrating to be prepared for the challenge.
"We have been truly impressed by both their steep learning curves.
"As we know, F1 is something that not all drivers can adapt to this fast! Therefore, we're looking forward to having a full year with them; one where we can hopefully provide them with a good package which, combined with driver consistency, can surely put them in the best possible situation to deliver. I'm sure they will keep pushing hard and fight for strong results, together with the team."
Brendon Hartley:"Really amazing to be confirmed as a Formula 1 driver for next year with Toro Rosso – It's very satisfying to have converted an opportunity that came as a surprise into a 2018 F1 drive, I couldn't be happier!
"I'd like to thank Red Bull and Toro Rosso for believing in me and giving me this second chance – dreams can come true.
"I'm now going to carry on working harder than ever in order to finish this busy end of season on a high and start the new year as strong as possible… Bring it!"
Pierre Gasly:"I'm super happy to race for Scuderia Toro Rosso in 2018, for my first proper season in Formula 1.
"I would like to thank all the people involved, who helped me get here: Red Bull, Toro Rosso, my family and all the ones who have supported me in the lower series.
"I'm really excited and super motivated to give it my all in Abu Dhabi and the whole of next year! I just can't wait!"
Photo credit: Scuderia Toro Rosso