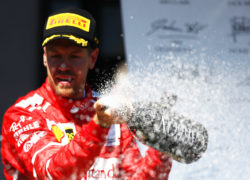 As the Brazilian crowd bid an emotional farewell to local hero Felipe Massa, it was Sebastian Vettel who delivered a controlled drive to victory for the first time since July.
Pole-sitter Valtteri Bottas was pipped off the line by Vettel's Ferrari and never truly threatened for the lead of the race. Besides snatching pole by less than half a tenth it's been a difficult few months for Bottas with several off-colour performances littered throughout the second half of his season. Nevertheless, his pace wasn't far off Vettel's at all and it was perhaps only the lack of courage into turn one that cost him victory in Brazil.
The end of seventy-one laps saw the top three covered by roughly five seconds with Kimi Raikkonen taking the final step of the podium. The Ferrari driver, on 40 lap old tyres, valiantly held off a charging Lewis Hamilton who had scythed his way through the field to go from the pitlane to fourth by the end of the race. Hamilton's uncharacteristic crash in quali may have reduced him to a pitlane start but the silver lining was a Mercedes power unit at full tilt and a newly crowned world champion willing and able to pull off several excellent overtakes. Despite a lap time advantage of more than 1.5 seconds and fresher tyres, he was ultimately not able to take third place off Raikkonen.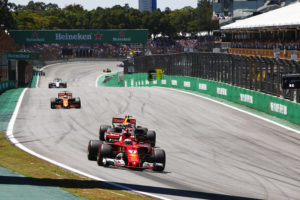 The last few weeks have been trying for manufacturer Renault and the teams they supply in the pitlane. So much so that a spat broke out between Renault boss Cyril Abiteboul and Toro Rosso team principal Franz Tost. While Alain Prost stepped in to pour some cold water on the otherwise spicy discontent from both sides it is obvious that Renault is struggling towards the end of the season. So much in fact that they've ordered all teams running the French manufacturer's power unit to turn down the performance output because of reliability fears.
It explains then what happened to Red Bull's early weekend pace, as it was nowhere to be found on Sunday. With the deficit, the best Max Verstappen could finish was fifth ahead of Daniel Ricciardo in sixth who started from the back of the grid due to, you guessed it, engine penalties. Power units continue to be the biggest talking point in F1 with the first meeting on what 2021 regulations could look like having already taken place. More seriously, however, is the fact that in 2018 teams will have a maximum of three engines to complete the season with and going beyond this allocation, which they undoubtedly will, means triggering grid penalties. It's a ridiculous requirement given that no team will be able to stick to it and it should be redressed as soon as possible.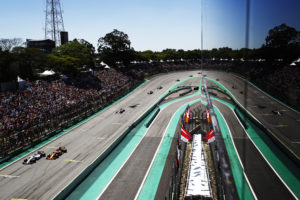 On the track, Felipe Massa delivered a typically plucky performance to hold on to a solid seventh place finish ahead of Fernando Alonso in eighth. Sergio Perez, merely a tenth behind Alonso, had to settle for ninth while Renault's Nico Hulkenberg rounded out the top ten.
To say it's been a difficult few months for Ferrari would likely be one of the biggest understatements of the year. After all, as they headed into the summer breaks after the Hungarian grand prix they had every expectation of winning the championship. But it all went horribly sideways as that Hungarian Gp turned out to be Vettel's last win. His win Brazil, a controlled drive from the front for all of the 71 laps, will be shot in the arm not only for him but for everyone in Maranello, after all, 2018 isn't that far off.
(All images courtesy of Pirelli Motorsport)