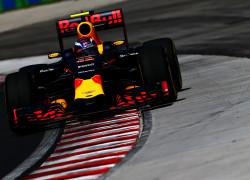 The FIA has once again adopted a "zero tolerance" approach to track limits at the Hungaroring for the Hungarian Grand Prix this weekend.
Turn 4 and Turn 11 have been fitted with electronic timing loops to determine if a car has all 4 wheels behind the white line. Drivers will have their lap times deleted during qualifying if they are found to have crossed these timing loops. To prevent false positives, the FIA have positioned these loops 20cm behind the white line.
In the race the drivers will be given 3 strikes before being handed a drive through penalty.
"We will be adopting a "zero tolerance" approach to cars leaving the track at turns 4 and 11 during qualifying," said the FIA in a note to the teams.
"Please note that this will be judged by the use of timing loops in the kerbs and, to ensure that we see no false crossings, we would like to make it clear that the loops are set up to register a crossing when a car is approximately 20cm beyond the white line.
"Every lap time achieved by leaving the track will be deleted in accordance with Article 12.3.1.d of the Sporting Code.
"During the race, and in accordance with Article 27.4 of the Sporting Regulations, any driver who is judged to have left the track three times at these corners (when counted cumulatively) will be shown a black and white flag, one further crossing will result in a report being made to the stewards for not having made every reasonable effort to use the track.
"As discussed, this is likely to result in a drive-through penalty for any driver concerned."