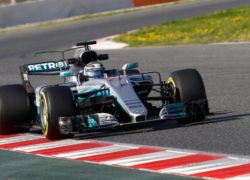 It all started with a letter from Ferrari to the FIA asking for clarification on a concept that would replicate the FRIC suspension, that was used by Mercedes and Red Bull in 2015 and halfway through 2016, for the 2017 season.
Reports were circulating that there might a protest at the Australian Grand Prix about the suspensions that Mercedes and Red Bull were going to run for the race weekend. But after a clarification by the FIA which stated that suspension systems must not be designed to aid aerodynamic performance, it emerged that Mercedes and Red Bull were ordered to make changes to their suspension systems following inspections by the FIA during pre-season testing in Spain.
"You are not allowed to have a suspension system that affects the aero performance of the car in anything other than an incidental way," said FIA Race Director Charlie Whiting at a media briefing on Thursday.
"We wanted to see whether the suspension is generally suspension or if it is there predominantly for the aerodynamic performance of the car.
"That is the change. We have been focusing far more on that this year.
"If a suspension system behaves asymmetrically, then there is not a very justifiable reason for behaving like that – if a suspension system goes down at one speed and comes back at a different speed.
"If they are not able to convince us then they are not able to use it."
On Thursday, all the teams had passed initial scrutineering by the FIA.