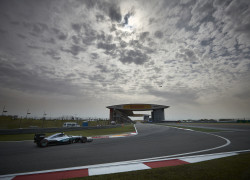 Qualifying for the Chinese Grand Prix race threw up some interesting points. The change back to the 2015 format mixed the grid more than the new 2016 regulations were meant to do. But one of the most talked about aspects is the tyre strategy come race day.
The three tyre compound per race weekend has been working incredibly well so far. The strategy for the race has become so much more flexible and keeps teams and drivers on their toes.
During Q2 Mercedes' Nico Rosberg headed out on the soft compound tyres and set his fastest lap on those tyres. According to the 2016 Sporting Rules drivers must start on the compound they set their fastest time in Q2. Rosberg will start tomorrows race with a set of soft tyres while all the drivers around him will start on the super soft tyres.
Rosberg will be able to go longer into the first stint on his soft tyres, but what we also know is that Ferrari can manage their tyres better than the Mercedes. Rosberg's plan of starting on the soft tyres will depend on where he emerges after the start of the race. To make the most of his strategy he will need to get away cleanly off the line and stay ahead of the pack through Turns 1, 2 and 3. According to Pirelli, Rosberg will run for softs for most of the race and change to super softs for the final stint. Starting on the soft, he will then change to softs around lap 16 and softs again around lap 31 and super softs for the final stint around lap 46.
It won't. however, be that simple for Rosberg with the Red Bull and two Ferrari's behind him. They are all starting on the super softs, but what we do know is that the Ferrari's are good at managing the tyres. They may be quicker or they can match the pace of Rosberg if he gets out up front. But their tyres will not last that long. They will have to pit earlier and could make the under-cut work for them. From there they can switch to the softs around lap 11, again around lap 26 and finally around lap 41 or switch to super softs for the final stint to the end. This will depend on track position.
Of course there are many other factors that come into play such as weather conditions, track temperature, track position but it's a general indication of which the strategy may unfold. What we do know is that we are in for a very strategic race tomorrow and the win is up for grabs.