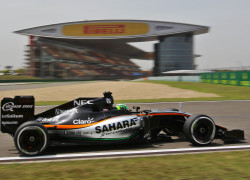 Nico Hulkenberg will drop three-places down the grid ahead of Sunday's Chinese Grand Prix race following a wheel nut incident in Qualifying.
The Force India driver was on his out lap in final minutes of Q2 when his front left wheel nut came loose sending the trye careening towards the tyre walls.
The stewards ruled that  his car "was released in an unsafe condition as the wheel and tyre fell off at turn 10" and imposed a three place grid penalty for the German. This means he will start in 13th. Hulkenberg's grid drop means Felipe Massa, will now start 10th, Fernando Alonso 11th and his McLaren team mate Jenson Button 12th.
Photo Credit: Sahara Force India Formula One Team