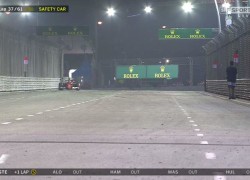 A 27-year-old man has been arrested by local police in Singapore after walking onto the circuit along the Esplanade Drive and taking a leisurely stroll during the Singapore GP.
The man climbed onto the track from the outside of the circuit and walked across, shortly before race leader Sebastian Vettel passed through.
Vettel immediately reported the incident to his team, "There is a man on the track, there is a man on the track!"
The guy then strolled along the side of the track before climbing over the barrier on the other side of the circuit. The Safety Car was deployed for the second time in the Singapore GP as a result.
"I had to look again because I wasn't sure whether I had a problem with my eyesight or I saw somebody crossing the track," said Vettel. "I think I saw him taking a picture. I don't know. I hope it was a good one at least. I hope it was in focus!"
"I wouldn't cross the track if I was him. It was crazy, obviously, and we had a Safety Car straight away. Maybe in the next Singapore GP we need to block the grandstands a bit better. Fortunately nothing happened to us and nothing happened to him – as far as I know."
This is the second occurence of a person breaching track security in the 2015 F1 season, after a spectator crossed the circuit during the second practice session for the Chinese Grand Prix in an attempt to enter the Ferrari garage.
The full statement released by the FIA after the Singapore GP is below.