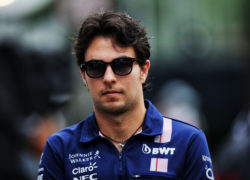 Ahead of the Singapore Grand Prix race the Force India Formula One Team announced that they have extended Sergio Perez's contract for 2018.
Perez was tipped to leave Force India but after Ferrari announced that they will retain the services of Kimi Raikkonen it shifted the big moves in the paddock to 2018.
"Staying with Sahara Force India was always my priority," said Perez.
"It's a team that has allowed me to show my talents as a driver and I feel very happy here.
"I'm proud of everything we have already achieved together and I think there is more to come.
"The team has done an amazing job this year to develop the car and establish our position as the fourth best team in Formula One. In the end it was an easy decision to continue our journey together."
Perez's deal is for one year which gives him the chance to make a switch to one of the rival teams on the grid.
Photo credit: Sahara Force India Formula One Team