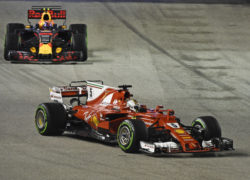 The FIA race stewards have decided that no further action will be taken following the Turn 1 carnage at the start of the race for the Singapore Grand Prix which saw both Ferrari's and the Red Bull of Max Verstappen collide subsequently putting them out of them out of the race.
After average starts from both Vettel and Verstappen, Vettel cut across the track to defend his position on the run to Turn 1. Raikkonen, who started 4th, had a better start that Verstappen who was lined up directly ahead of him on the grid. Raikkonen went down the inside of Verstappen and was almost clear of the Red Bull when Verstappen's rear left tagged Raikkonen's rear right, swinging the Ferrari around the front of the Red Bull and into the side of his team mate Vettel.
The move left Verstappen with no where to go and the "pincer" like movement executed by the Ferrari's contact looked inevitable.
All three drivers were summoned to see the stewards after the race and after meeting with teams they decided that no driver was wholly to blame for the incident.
In a statement the stewards said: "The Stewards examined video evidence and heard from Sebastian Vettel,the driver of Car 5, Kimi Raikkonen, the driver of Car 7, Max Verstappen, the driver of Car 33 and the team representatives.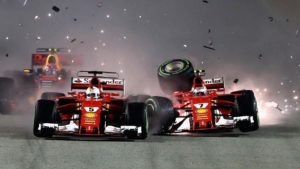 "Driver of Car 7 had a very good start and was able to attempt overtaking of Car 33 on the left hand side.
"At the same time, Car 5 which had a slower start, moved to the left hand side of the track; Car 33 and Car 7 then collided resulting in a chain collision with Car 5 and ultimately Car 14 (Fernando Alonso) at the next turn.
"Cars 7, 5 and 33 had to retire immediately as a result of the incident; and Car 14 retired some laps thereafter.
"The Stewards consider that no driver was found to have been wholly or predominantly to blame for the incident and will therefore take no further action."