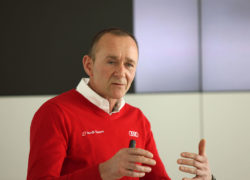 The Sauber Formula One team has confirmed Jorg Zander will take up the role as Technical Director at the team from 2017.
Zander currently holds the position of Technical Director for Audi Sport in the World Endurance Championship team. Audi have decided to pull the plug on its WEC program at the end of this year. Zander who was the Chief Designer for BMW Sauber in 2006 and 2007 returns to Hinwil from 2017.
Zander joins Sauber when new technical regulations for 2017 kick in and will oversee the entire technical team at Sauber and hopes to return Sauber as a mid field team.
"I am delighted to return to the Sauber F1 Team in my adopted home country of Switzerland," said Jörg Zander.
"After many years at the top level in endurance motorsport, I am very pleased to become Technical Director and to undertake the challenge with Monisha Kaltenborn, the team, all the outstanding engineers and mechanics in the new era of Formula 1.
"The new Formula 1 regulations offer a great opportunity to point the way with innovations and technical creativity.
"One of my tasks will be to define a stable and efficient technical organisation that evolves the potential of creativity and, therefore, the basis for the development of successful Formula 1 cars. Initially we obviously want to improve and establish ourselves as a team in the mid-field. Overall it is a challenge which I await with excitement and enthusiasm."
"We are very pleased about the appointment of Jörg Zander as our new Technical Director at the Sauber F1 Team," said CEO and Team Principal Monisha Kaltenborn.
"We are honoured that we have convinced such a renowned and experienced technical leader to be part of our team and plans for the future.
"This is a very important step for the implementation of our strategic goals, in order to guide the team into a new and successful era. Zander fits well into our team, he has a lot of know-how in Formula 1, as well as in motorsport in general.
"As Technical Director he will have the overview as well as the responsibility for all technical departments.
"In our factory in Hinwil he will have the possibilities to work technically at a very high level. We are convinced we will make progress with him.
"We wish Jörg Zander a good start on his return to Sauber, for which we ensure him our full support."