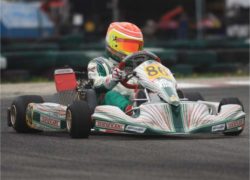 The Williams Formula 1 team has announced that Lance Stroll will be one of its drivers for the 2017 season.
In a statement released my the Williams Martini F1 Team it was confirmed that Canadian teenager Lance Stroll will take over the vacant seat of retiring Brazilian driver Felipe Massa at the team for the 2017 season.
Stroll got his racing start in his native Canada in 2008 and was crowned Canadian Champion in the same year. In 2010 he netted four titles before moving to the Italian Kart Championship in 2011 where he finished eighteenth. In 2015 Stroll became the second youngest driver to be signed by a Formula 1 team as he became a development driver for Scuderia Ferrari. Towards the end of 2015 it was announced that Stroll would move to Williams as a development driver for the 2016 season.
In addition, the 18 year old driver raced for the Prema Powerteam in the 2016 season of the Euro Formula Three Series. Stroll scored eleven victories and claimed the title in Imola more than one-hundred points clear of his closest rival.
Ladies and gentlemen our 2017 driver line-up… #WeAreRacing #F1 pic.twitter.com/jMfwyxmvYk

— WILLIAMS RACING (@WilliamsRacing) November 3, 2016
"To be racing in Formula One in 2017 is incredible, I can't thank Williams enough for showing faith in my ability," said the newly appointed Stroll.
"Racing in F1 was something I dreamt about as a young kid. When I began karting seriously, F1 was then the ultimate goal and especially when I started racing cars in 2014," he added.
"2017 is going to be a big learning curve for me, but I'm eager to absorb everything Williams can share with me so that I improve.
"I'll be taking things on a race-by-race, lap-by-lap basis and hopefully progress with experience like I did when I entered Formula 4 and then Formula 3."
Stroll is under no illusions about the immense task of driving in Formula 1 and he feels that by racing in the European Formula 3 Championship has given him a good base to work off.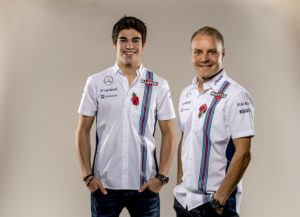 "I believe contesting the FIA European Formula 3 Championship for the past two years has prepared me well for the step up.
"There are many elements for me to learn and I'm still young. I've been experiencing a 2014-spec Williams FW36 since August, which has gone very well.
It was also confirmed that Valtteri Bottas will remain at the team for the 2017 season providing some stability in the team going into the 2017 rule shake up.
"Firstly, I am very happy that I will be starting my fifth season racing for Williams in 2017," commented the Finn.
"It's going to be an exciting year with all the regulation changes and a great opportunity for the team to get closer to the front. I'll be giving 100% as always to the team.
"Thank you to Frank, Claire and the whole Williams Board for their continued trust in me. Also, thank you to everyone at Williams, as it will be nice to continue working together with everyone both at the factory and the track.
"I'd also like to extend a very warm welcome from myself to Lance on joining the team. I look forward to seeing what we can achieve together."
Claire Williams, Deputy Team Principal, said; "I'm delighted to confirm that Valtteri will be racing for Williams once again next year, and be joined by Lance Stroll.
"Valtteri is a much-loved member of the team and his talent is unquestionable, so for him to use that experience to help lead the team forward is exciting. He has played a pivotal role in the team's turnaround since 2014 and we are looking forward to continuing the strong relationship we have with him into the future.
"Lance joined the Williams Young Driver Programme at the end of 2015 and has impressed our engineers with his maturity, talent and enthusiasm.
"We are pleased to be able to offer him the opportunity to step up and show what he can do in Formula One, after proving a dominant force in all the categories he has raced in so far.
"He is still young, and we looking forward to seeing him develop as a driver. Williams has a great record of introducing young drivers to Formula One, who have achieved great results, and we hope this will be the start of a long successful career for Lance as well.
""As a team, we continue to push forward in our goal to win races and championships, and believe this exciting fresh combination will put us in a strong position to deliver on our future targets."