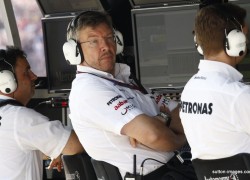 Former F1 team boss Ross Brawn will return to F1 as Managing Director, Motor Sport as part of the new structure of the F1 business.
The announcement was made by newly appointed F1 CEO Chase Carey on Tuesday evening. Carey also confirmed the appointment of former Executive Vice President of Sales and Marketing at ESPN, Sean Bratches as Managing Director, Commercial Operations.
Brawn, over a 40-year career in motorsport has won 22 FIA World Championships between Benetton, Ferrari, Williams and his own team Brawn GP. He was instrumental in laying the ground work for the success at Mercedes. Most recently he worked with Liberty Media as an adviser during the F1 acquisition.
Sean Bratches has over 27-years of experience in sales and marketing and his contribution helped ESPN grow it's brand and revenue. At ESPN he had oversight over advertising, and sponsor sales as well as the research and analytics, marketing, consumer products and events marketing divisions.
"It's fantastic to be returning to the world of Formula 1," said Brawn about his appointment.
"I've enjoyed consulting with Liberty Media these last few months and I'm looking forward to working with Chase, Sean and the rest of the Formula 1 Team to help the evolution of the sport.
"We have an almost unprecedented opportunity to work together with the teams and promoters for a better F1 for them and, most importantly, for the fans."
Bratches added: "I'm very excited to be joining Formula 1 and contribute to the continued growth of this extraordinary global brand and sport.
"Formula 1 is one of few truly global tier one sports, and I am encouraged by the manifold opportunities to materially grow the business, work closely with current and future sponsors, race circuits, television rights holders as well as create next generation digital and on-site race experiences to best serve the Formula 1 fans."