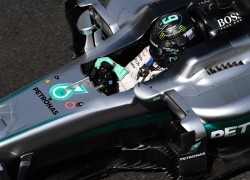 Nico Rosberg claimed the pole position for the European Grand Prix at the Baku City Circuit while team mate Lewis Hamilton binned his Mercedes out of Q3. Hamilton will start tomorrow's race from 10th place.
Rosberg will start the inaugural grand prix at Baku from pole after posting a supremely dominant time of 1:42.758 which he set not long before the qualifying session was halted to allow marshalls to recover Hamilton's car from the track.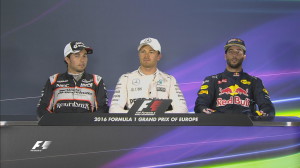 After pretty much writing off his Force India in the final practice session ahead of qualifying, Sergio Perez qualifyied in second place ahead of Red Bull's Daniel Ricciardo.
Perez left his Force India mechanics with a lot of work to do before the qualifying session underway but managed to bag the second fastest spot for the session. He will, however drop down to seventh place for a gearbox change resulting from the practice crash.
Daniel Ricciardo grabbed position from Sebastian Vettel in an all out final effort with only 2:05s remaining on the clock when the session restarted. Ricciardo will start the Baku GP from second, and Vettel third. The two drivers' qualifying times were identical with the front row spot decided by Ricciardo having set the time before Vettel.
Kimi Raikkonen will line the second Ferrari up in fourth place on the grid tomorrow, ahead of Felipe Massa's Williams, the Toro Rosso of Daniil Kvyat and Sergio Perez.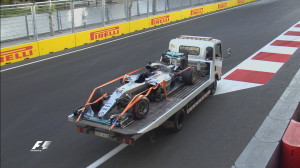 Valtteri Bottas, who is taking some flack for holding up both Jenson Button and Max Verstappen, will start from eigth position ahead of Verstappen and Hamilton.
Romain Grosjean finished 11th fastest for the Haas F1 team after adding a few more escape roads to his excursion map for the weekend.
Nico Hulkenberg threw away what looked to be an excellent opportunity to qualify well by spinning out of Turn 16. Hulkenberg will start the Baku GP from 12th place.
Carlos Sainz Jr will start from 13th with Fernando Alonso's McLaren alongside him in 14th place. Esteban Gutierrez qualified 15th fastest with Felipe Nasr taking up the final Q2 qualifying classification position.
The Manor team ever so nearly made it through to Q2. Rio Haryanto and Pascal Wehrlein took up 17th and 18th places ahead of Jenson Button who could only manage 19th fastest after running wide at Turn 15. Marcus Ericsson qualified 20th fastest for Sauber with the two Renaults of Kevin Magnussen and Jolyon Palmer completing the grid.
Baku Qualifying Classification: