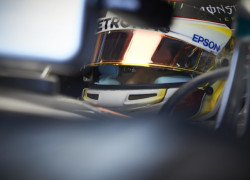 Mercedes reigning F1 World Champion Lewis Hamilton stole the quickest time at the top of the final practice timesheets, ahead of the first ever qualifying at the Baku City Circuit, for the European Grand Prix.
Hamilton  made it a clean practice sweep in the final minutes of the practice session with a time of 1:44.352 on the super soft tyres. Rosberg had held on to the top spot for most of the hour long session but missed the mark by 0.258s after Hamilton's final quick lap.
Force India made a strong showing with Nico Hulkenberg and Sergio Perez running 3rd and 6th respectively. Perez however was set to improve considerably and was on a really good lap but got caught out by a crosswind and crashed into the wall just after the chequered flag fell on the session.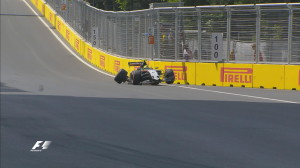 Perez went very wide out of Turn 15 and banged the right rear of his VJM09 into the wall leaving his Force India mechanics with plenty of work to do to get ready for qualifying.
Daniel Ricciardo brought his Red Bull home 4th fastest with Ferrari's Sebastian Vettel completing the Force India sandwich.
Max Verstappen finished 7th fastest ahead of Jenson Button, Daniil Kvyat and Kimi Raikkonen to complete the Top 10. Raikkonen had been in the pits for a great deal of the practice session with an engine problem.
Fernando Alonso was 11th fastest with Carlos Sainz Jr., Romain Grosjean and Felipe Massa lining up behind him.
Esteban Gutierrez was 15th fastest with the Renault duo of Kevin Magnussen and Jolyon Palmer split by Pascal Wehrlein further back. The Saubers and Manors took their familiar positions on the timesheets.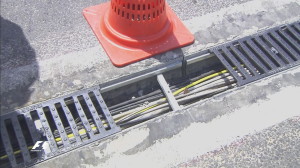 Valterri Bottas was not able to set a time for the practice session after a loose cable duct cover flipped off under his Williams' downforce and damaged the sidepod of his FW38.
Bottas was on his way back into the pits after an installation lap when he drove over the loose metal cover and ripped his sidepod. The Williams mechanics worked hard to repair the damage but were not able to send him back out before the end of the session.
Join us for the inaugural qualifying at the Baku City Circuit at 3pm GMT+2! We'll be on Twitter @F1_Madness with live commentary and F1 banter throughout.
Final Practice Session timesheet: