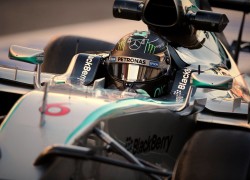 Nico Rosberg threw down the gauntlet in testing today after setting the fastest time of the day and the pre-season test in Barcelona for Mercedes.
Elsewhere on the track, Force India debuted their 2015 car the VJM08 after skipping the first test and taking part in the second test with their 2014 car. The other good news was that the McLaren team got their first day of solid running.
The day however belonged to Robserg in the Mercedes who set a 1:22.792 on a set of Pirelli's soft compound tyres. Rosberg's time was 1.203s faster than Valtteri Bottas in the Williams who finished the day second fastest. Interestingly enough, Rosberg's time today is about 0.7s quicker than Felipe Massa's fastest time on day 1 on the same tyre.
Felipe Nasr in the Sauber finished third for the day while Sebastian Vettel took the spot for 4th fastest completing 143 laps on the day, the highest lap count for the day. His time of 1:25.339 was 2.547s slower than Rosberg's time. It should be noted that Ferrari concentrated on long runs for most of the day.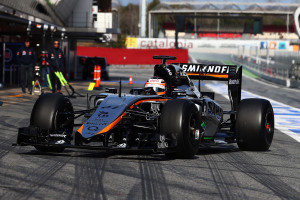 Jenson Button in the McLaren had the best day for McLaren since testing began clocking up 101 laps under his belt. "We've got a lot of work still do to, but we had a good day today," commented Button. "It's never easy when you've missed out on so much testing, but we're making good progress, and we got lots of really useful information today."
"We know we're not the quickest guys out there, but you'll certainly see a lot of improvement by the time we get to Australia."
Button's day was brought to an end after an unspecified electrical problem which caused him to stop out on track. But not before completing his tally of 101 laps.
Lotus had Pastor Maldonado at the wheel of the E23 who completed 140 laps and finished 6th fastest. Max Verstappen and Daniil Kvyat finished 7th and 8th respectively for Toro Rosso and Red Bull.
Force India rolled out the VJM08 today with Nico Hulkenberg at the wheel. On its debut the car clocked up 77 laps for the day finishing slowest on the day. The team are not too concerned with the time at this stage as they are focusing on reliability as they've missed out on a big chunk of testing time.
Below is the unofficial time sheet for day 2 of the final pre-season test in Barcelona

Photo credits: Mercedes AMG Petronas Formula One Team, Sahara Force India Formula One Team