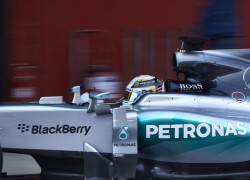 Lewis Hamilton made it two for two for Mercedes on the penultimate day of the Barcelona pre-season test.
Hamilton set his fastest time of 1:23.022 for the day on Pirelli's yellow soft compound tyre in the afternoon session after spending most of the afternoon in the garage. Felipe Massa in the Williams was second fastest on the day with a 1:23.262, 0.240s slower than Hamilton. Massa completed his lap on the super softs compared to Hamilton on the soft. This is quite an incredible show of pace from Mercedes although we are not sure if Massa was pushing to the absolute limit.
Long runs and a race simulation was the order of the day at Ferrari. Kimi Raikkonen finished the day 3rd fastest 0.254s slower than Hamilton. Raikkonen completed his fastest lap on the super softs in what looks like a qualifying type simulation.
Carlos Sainz Jr. and Romain Grosjean finished 4th and 5th fastest respectively both with lap counts over 100 laps. Marcus Ericsson in the Sauber ended his day 6th fastest with 123 laps to his name.
Nico Hulkenberg completed a solid day for Force India. This was the first full day of running after launching the VJM08 yesterday afternoon. Hulkenberg finished 7th fastest but completed a 158 laps on the day. "It was a very positive day in terms of reliability and getting a lot of mileage under our belts," commented Hulkenberg. "It was our first full day of testing so our main focus remained on getting to know the car, the way we set it up and its characteristics."
After a good day of running yesterday, it seemed to go the other way for McLaren on Saturday. Kevin Magnussen, filling in for Fernando Alonso, only completed 39 laps for the day and was forced to end the day almost three hours early due to on oil leak.
Daniel Ricciardo completed his day 9th fastest with 128 laps on the board. Red Bull focused on long run pace and race simulations after fitting new parts on the car. Daniel Ricciardo was happy with the updates and he feels the team have addressed their weaknesses from last year.
"It looks more promising," he said. "I don't think we have shown our true pace on low fuel yet. "High fuel stuff seems like we are a bit happier than where we feel like we should be."
"We will see in Melbourne when everyone is on the right fuel loads but I think we do look more competitive on high fuel for now."
Below is the unofficial time sheet for Day 3 of the final pre-season test