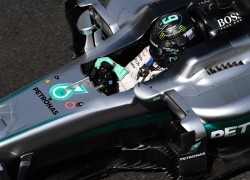 Nico Rosberg claimed the fastest time of the second free practice session for the Hungarian Grand Prix after Mercedes team-mate Lewis Hamilton crashed out earlier in the session.
Rosberg's best time of 1:20.435 came courtesy of the super soft compound tyres. Daniel Ricciardo in the Red Bull was the closes to Rosberg with a 1:21.030, 0.595s off Rosberg's time. Ferrari's Sebastian Vettel left his fastest time of the to a little later in the session where he set his best lap of 1:21.348 which is 0.913s off the fastest time.
Before Rosberg had set the fastest time his team mate was the fastest around the circuit and on a flying lap Hamilton dipped his outside wheel onto the kerb under braking for Turn 11. The rear of his Mercedes came around and sent the Briton sideways over the run-off area and into the tyre barriers. Hamilton's car made contact with the barriers square on and sideways and recorded an impact force of 10g. The session was subsequently red flagged while the marshals made repairs to the barrier. Hamilton was able to make his way slowly back to the pits.
Max Verstappen finished his FP2 4th fastest with a 1:21.770. Hamilton's time of 1:21.960 before his crash was good enough to get him 5th fastest for the session.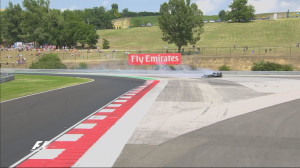 Kimi Raikkonen was 6th fastest more than 1.5s off the pace. The two McLaren's once again finished side-by-side in 7th and 8th with Fernando Alonso leading Jenson Button.
After narrowly missing out on a top 10 finish in FP1, Nico Hulkenberg finsihed 9th fastest in FP2 ahead of team-mate Sergio Perez.
Both Williams cars seems to be struggling for grip around the Hungaroring. Bottas is under investigation for failing to keep right of the pit entry bollard.
In addition to Hamilton retiring from the session, Toro Rosso's Carlos Sainz and Sauber's Felipe Nasr also retired from the session with mechanical problems.
Mercedes looked very strong in their long runs. Red Bull and Ferrari are close, but are some way off Mercedes.
| | | | | | |
| --- | --- | --- | --- | --- | --- |
| Pos | Driver | Car | Time | Gap | Laps |
| 1 | Nico Rosberg | Mercedes | 1:20.435 | – | 45 |
| 2 | Daniel Ricciardo | Red Bull | 1:21.030 | +0.595 | 36 |
| 3 | Sebastian Vettel | Ferrari | 1:21.348 | +0.913 | 31 |
| 4 | Max Verstappen | Red Bull | 1:21.770 | +1.335 | 35 |
| 5 | Lewis Hamilton | Mercedes | 1:21.960 | +1.525 | 4 |
| 6 | Kimi Raikkonen | Ferrari | 1:22.058 | +1.623 | 46 |
| 7 | Fernando Alonso | McLaren | 1:22.328 | +1.893 | 21 |
| 8 | Jenson Button | McLaren | 1:22.387 | +1.952 | 34 |
| 9 | Nico Hulkenberg | Force India | 1:22.449 | +2.014 | 41 |
| 10 | Sergio Perez | Force India | 1:22.653 | +2.218 | 38 |
| 11 | Esteban Gutierrez | Haas | 1:22.673 | +2.238 | 38 |
| 12 | Felipe Massa | Williams | 1:22.681 | +2.246 | 39 |
| 13 | Carlos Sainz | Toro Rosso | 1:22.689 | +2.254 | 24 |
| 14 | Valtteri Bottas | Williams | 1:22.773 | +2.338 | 38 |
| 15 | Romain Grosjean | Haas | 1:22.864 | +2.429 | 28 |
| 16 | Daniil Kvyat | Toro Rosso | 1:22.948 | +2.513 | 43 |
| 17 | Kevin Magnussen | Renault | 1:23.347 | +2.912 | 41 |
| 18 | Marcus Ericsson | Sauber | 1:23.437 | +3.002 | 36 |
| 19 | Jolyon Palmer | Renault | 1:23.528 | +3.093 | 12 |
| 20 | Felipe Nasr | Sauber | 1:23.986 | +3.551 | 31 |
| 21 | Pascal Wehrlein | Manor | 1:23.992 | +3.557 | 22 |
| 22 | Rio Haryanto | Manor | 1:24.265 | +3.830 | 36 |
Photo credit: Mercedes AMG Petronas Formula One Team