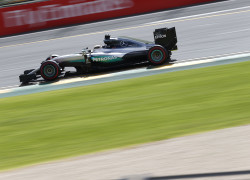 Mercedes' Lewis Hamilton finished the first free practice session of the Hungarian Grand Prix on top of the time sheets.
Hamilton's time of 1:21.347 sent him to the top of the time sheets on the red marked super-soft tyre. Newly re-signed Mercedes team mate, Nico Rosberg was second fastest, 0.237s off the pace, with a 1:21.584.
The session which started under overcast and damp conditions saw drivers head out on the intermediates initially. There was hardly any running for the first 30mins of the session. Once the track was dry drivers took to the track and the lap times started tumbling.
Sebastian Vettel and Kimi Raikkonen were 3rd and 4th fastest respectively for Ferrari with Vettels best time of 1:22.991, 1.644s off Hamilton's pace. The Red Bull pair of Daniel Ricciardo and Max Verstappen were 5th and 6th fastest.
Both McLaren's finished in the top 10 with Fernando Alonso setting a 1:23.961 to place him 7th fastest ahead of his team mate Jenson Button in 8th.
Haas F1's Romain Grosjean was 9th fastest and Force India's Sergio Perez marginally faster than his team mate to take 10th fastest.
Mercedes once again showed why they are the team to beat laying down the gauntlet early on. Times will get much quicker once the track rubbers in and the dust is cleared.
Red Bull have not showed their hand yet as they completed the session without running the super soft tyres. Both drivers' times came courtesy of the yellow marked soft-compound tyre. There is not much between Red Bull on the softs and Ferrari on the super softs and it does look like Red Bull may have the upper hand over Ferrari.
| | | | | | |
| --- | --- | --- | --- | --- | --- |
| Pos | Driver | Car | Time | Gap | Laps |
| 1 | Lewis Hamilton | Mercedes | 1:21.347 | – | 34 |
| 2 | Nico Rosberg | Mercedes | 1:21.584 | +0.237 | 34 |
| 3 | Sebastian Vettel | Ferrari | 1:22.991 | +1.644 | 22 |
| 4 | Kimi Raikkonen | Ferrari | 1:23.082 | +1.735 | 19 |
| 5 | Daniel Ricciardo | Red Bull | 1:23.174 | +1.827 | 28 |
| 6 | Max Verstappen | Red Bull | 1:23.457 | +2.110 | 27 |
| 7 | Fernando Alonso | McLaren | 1:23.935 | +2.588 | 28 |
| 8 | Jenson Button | McLaren | 1:23.961 | +2.614 | 18 |
| 9 | Romain Grosjean | Haas | 1:24.013 | +2.666 | 22 |
| 10 | Sergio Perez | Force India | 1:24.073 | +2.726 | 29 |
| 11 | Nico Hulkenberg | Force India | 1:24.120 | +2.773 | 29 |
| 12 | Felipe Massa | Williams | 1:24.154 | +2.807 | 27 |
| 13 | Valtteri Bottas | Williams | 1:24.370 | +3.023 | 33 |
| 14 | Carlos Sainz | Toro Rosso | 1:24.579 | +3.232 | 27 |
| 15 | Marcus Ericsson | Sauber | 1:24.981 | +3.634 | 19 |
| 16 | Charles Leclerc | Haas | 1:25.181 | +3.834 | 22 |
| 17 | Felipe Nasr | Sauber | 1:25.256 | +3.909 | 18 |
| 18 | Esteban Ocon | Renault | 1:25.260 | +3.913 | 28 |
| 19 | Daniil Kvyat | Toro Rosso | 1:25.324 | +3.977 | 16 |
| 20 | Rio Haryanto | Manor | 1:27.012 | +5.665 | 23 |
| 21 | Pascal Wehrlein | Manor | 1:27.249 | +5.902 | 9 |
| 22 | Jolyon Palmer | Renault | 1:28.560 | +7.213 | 6 |
Photo Credit: Mercedes AMG Petronas Formula One Team