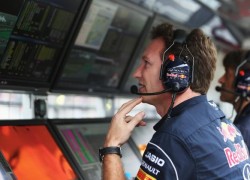 Red Bull Team Principal Christian Horner has warned that Renault may walk away from F1 if the 2016 rules are not changed.
A loophole in the 2015 season rules was discovered and after a successful challenge by the teams, they were finally allowed to develop their engines during the season using a set number of tokens. Since the challenge, the FIA has moved to close the loophole and in season development of the engines during the 2016 season is now forbidden. The teams are required to use up their tokens and homologate their engines by 28 February 2016.
With Mercedes in such a strong position in the championship for the second season running, they will want to maintain their advantage and oppose any change to the rules which Ferrari, Renault and Honda are pushing for. The rule change would require unanimous support from all the teams and with Mercedes in the position that they are in at the moment, it is unlikely they will agree to any changes in the rules.
"The situation is we are at a precarious point in terms of Renault's commitment to the future," Horner said.
"If you are effectively shutting that down [the engine development] in February, you are almost waving goodbye to them," he added.
Horner is calling for level heads to prevail at the FIA and Mercedes and he urges the parties involved to see the bigger picture and to consider the future of F1 as a sport.
"Mercedes need to have a bit of a grown-up think about it, and the FIA as well, to say what is in the best interests of Formula 1.
"If Formula 1 can afford to lose an engine manufacturer, then stick to February 28."
Renault have been on the back foot since the start of the season with their engines. They have fallen further behind with their development and they have not spent any development tokens this season. It's been a tough first quarter of the season for them with Red Bull already using their 4th and final allocated engine of the season for both of their drivers due to unreliability. Red Bull have been rather vocal about their issues and place the blame with Renault.
There were several high level meeting taking place at the Canadian Grand Prix where team bosses from Ferrari, Mercedes, Red Bull and McLaren were present. Many believe discussions about customer teams have taken place and they may have taken place. But what about the engine rules? Surely there must have been a word or two about it.