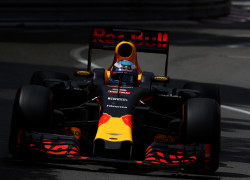 Red Bull have revealed that Ricciardo's pit stop  blunder was down to unavailability of tyres required because they were at the back of the garage.
The race started under safety car conditions and once the race got going he was able to open up a good lead over the Mercedes pair. After his first stop on the intermediates after starting on the full wets, he was able to stay close to 1st place driver Lewis Hamilton. Hamilton chose to stay out on the full wet tyres, a move that would later prove to be a race winning move.
As conditions improved and a dry line started appearing and drivers switched over to dry weather tyres. Hamilton came in for a set of ultra softs first, Ricciardo was in the pits a few laps later. It was supposed to be a routine stop for the Australian and he was expected to rejoin the race in the lead.
Red Bull did not have any tyres ready for him and Ricciardo was delayed in the pits. He eventually rejoined the race behind Hamilton.
The plan, according to Red Bull was to fit the softs on Ricciardo's car but then changed their minds to fit on the super softs that he ran during Q2.
Believing that there was enough time to get those tyres ready for Ricciardo it soon emerged that the tyres were at the back of the garage which sent the mechanics scrambling for tyres at the back of the garage.
"Based on how we are set up here in Monaco, the pit wall is upstairs and the garage is downstairs," said Red Bull Team Principal Christian Horner
"The tyres are on heat both in the garage and behind the garage, and unfortunately the set of tyres that were called for were not readily to hand, and were at the back of the garage.
"There was a scramble with the mechanics, originally having the soft tyre ready, the yellow tyre. And when that change [to supersoft] was requested to go to the super soft, those tyres were actually right at the back of the garage.
"A very disappointing day.
"We as a team owe Daniel a huge apology today as we failed to support him in the way we did to get him to his first pole position yesterday.
"The delay at his pit stop cost him the lead and despite some excellent driving to get close to Lewis, he couldn't get past, as is so often the case here in Monaco.
Photo Credit: Red Bull Racing