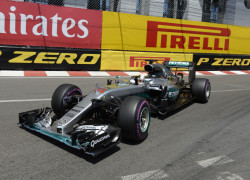 If a race around the confined streets of Monte Carlo isn't a big enough challenge the rain that came down made sure that it was emphatically more demanding.
Daniel Ricciardo started the Monaco grand prix from his first career pole position and would've felt he had half the job done. As the race got underway behind the safety-car there was no perilous side-by-side running into turn one with Nico Rosberg's Mercedes or the fear of pushing slightly over the limit any into a barrier.
When racing did get underway Ricciardo quickly carved out a ten second to second placed Rosberg with Hamilton close behind in third. As the circuit started to dry Ricciardo dived into the pitlane for a set of intermediate tyres but the Mercedes of Lewis Hamilton stayed out. It was this stint, on the full wet tyre, that won Lewis Hamilton the Monaco grand prix.
But for Hamilton to take his first victory of the season a lot of things had to go his way. First championship leader and teammate Nico Rosberg had to move over and let him by and this move revealed some Rosberg's character.  Regardless of his pace, as the championship leader, there couldn't have been an argument against Rosberg if he didn't move out of the way for his biggest rival. By giving way to Hamilton he showed himself to be a team man.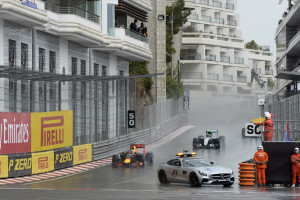 Still victory seemed a long shot as Ricciardo closed right onto the back of Hamilton on his quicker intermediate tyres. Each driver would have to make one more stop for slick tyres. However, as the Australian dived into the pits for dry tyres a communication error meant the team was not ready. A thirteen second pitstop for Ricciardo meant Hamilton squeezed into the lead of race.
Although demoralized Ricciardo refused to give up and hounded Hamilton for as long as possible. Nevertheless, the Australian was unable to take back the lead of the race and finished second. Not too far behind Force India's Sergio Perez drove a stellar race to hold of the Ferrari of Sebastian Vettel for third. Ferrari's Monaco experience was an unforgettable one as Kimi Raikkonen retired early on after touching the barrier in the hairpin and getting stuck on his own front-wing.
Fernando Alonso showed his class with a fine fifth place finish for McLaren on their 50th anniversary. The opportunistic Nico Hulkenberg snatched sixth place from Nico Rosberg into the final corner on the last lap of the race. Meanwhile Rosberg, running with suspected glazed brakes, finished seventh ahead of Carlos Sainz in eighth, Jenson Button in ninth, and the Williams of Felipe Massa in tenth.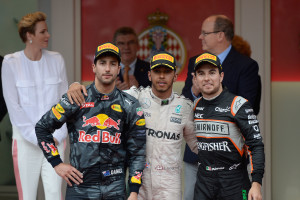 The race was interrupted by several virtual safety car periods as drivers fell victim to the difficult conditions and notoriously tight circuit. Renault's Jolyon Palmer crashed in the start/finish straight while Toro Rosso's Daniil Kvyat took out Kevin Magnussen. Max Verstappen was well on his way to recovering from a pitlane start but stuck his Red Bull into the barrier on lap 34.
To add insult to a serious lack of pace Marcus Ericsson attempted a bizarre move on his Sauber teammate Felipe Nasr into the final corner that ended in a double retirement for the team.
Some stars had to align for Hamilton's first win of the 2016 season. But it was his masterfully controlled stint on a drying track with worn wet-weather tyres that sealed the deal. A car as dominate as the 2016 Mercedes often disguises a driver's skill. But on this day not even this could overshadow Hamilton's near impeccable feel and talent for driving a Formula 1 car.
All images courtesy of Pirelli Motorsport.