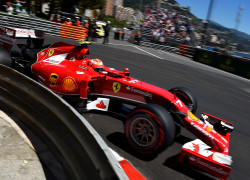 The stewards at the Monaco Grand Prix decided to reprimand Ferrari's Kimi Raikkonen for his incident with McLaren's Kevin Magnussen towards the end of the race.
The incident happened with 6 laps towards the end of the race. Raikkonen dived down the inside of Magnussen at the Loews Hairpin, it looked as if he out braked himself, ran over the inside kerb and went straight into the outside crash barrier knocking his front wing off. He had to pit to replace the broken front wing which put him out of the points.
Magnussen put the blame solely on Raikkonen for the incident. "I closed the door at Loews and he chose to go anyway," said Magnussen.
The stewards also made the decision to take no action against the Button-Perez incident on the opening lap of the race which caused the first safety car.
The incident happened at Mirabeau where McLaren's Jenson Button ran into the back of Sergio Perez's Force India causing him to spin which resulted in the end of Pere'z race.
"I was in a battle with Hulkenberg who was ahead, and I went to take the apex normally," said the Mexican. "I was on the racing line and ahead of Jenson when he clipped my rear wheel and spun me around into the barriers. I did not expect him to be there as there wasn't really any space for another car there."
Photo courtesy Scuderia Ferrari Formula 1