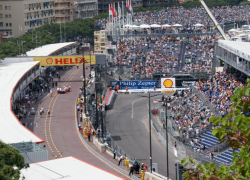 The Mercedes of Lewis Hamilton ended the third and final practice for the Monaco grand prix fastest.
Teams are drivers were left with a lot of work to do on Saturday morning as they played catch-up after Thursday's washed out second free practice session. The Mercedes pairing of Lewis Hamilton and Nico Rosberg traded fastest times throughout the session.
However, it was Red Bull Racing's Daniel Ricciardo who sprung the biggest surprise. The Australian set a laptime of 1:16.808 on his SuperSoft tyre run to split the two Silver Arrrows. Most signficantly, Ricciardo set his fastest time amidst a relatively long run. Teammate Sebastian Vettel, caught up in traffic during his attempt on the SuperSoft rubber, was fourth fastest.
Fernando Alonso and Kimi Raikkonen ended the hour long session in fifth and sixth respectively. The Ferrari however does not look like matching the pace of the front-running teams around the streets of Monte Carlo. BBC commentator and three-time Le Mans winner Alan McNish reckons that the Ferrari looks more like a "bucking bronco than a prancing horse."
While SuperSoft tyre was the obvious choice for the qualifying simulation runs; it was significant to note that the Pirelli tyres took up to three laps to come into their own and deliver a lap time. This will be an especially significant issue during qualifying as drivers and teams will have to guard against getting caught in traffic.