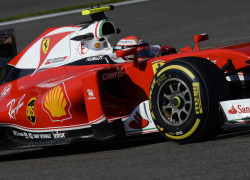 Kimi Raikkonen claimed the top spot on the time sheets at the third free practice session for the Belgian Grand Prix at the Circuit Spa-Francorchamps.
Raikkonen set his best time of 1:47.974 on his second run on the super softs. Up until that point. Red Bull's Daniel Ricciardo held the top spot also with a run on the super soft tyres.
Ricciardo took the spot of second fastest 0..215s off the pace with a 1:48.189. Max Verstappen in the other Red Bull did not set a time due to a sensor problem on his gearbox.
Sebastian Vettel was 3rd fastest with a 1:48.297, 0.323s off Raikkonen's time. Vettel had a few issues with traffic but his timed lap didn't seem to come together.
In a better showing of form compared to Friday's running Valtter Bottas was 4th fastest setting a 1:48.504.
After running most of the session with the soft tyre with long run pace, Lewis Hamilton fitted the super soft tyres just before the end of the session and managed a time of 1:48.635 which put him 5th fastest. It was hard to tell whether Hamilton was just not pushing or the W07 was struggling with the high track temperatures. Mercedes' Paddy Lowe confirmed that Hamilton will do the minimum during qualifying after Hamilton took on a 3rd power unit which effectively drops him another 25-places down the grid which brings his total grid drop total to 55-places.
Nico Hulkenberg was 6th fastest showing some very good pace for Force India. Sergio Perez in the other Force India was 9th fastest for the session.
Nico Rosberg could not get his lap together and managed 7th fastest. With the pressure on him this weekend, he needs a strong showing this weekend to close the gap to Hamilton and possibly take the lead in the constructors championship.
Rounding out the top 10 was Romain Grosjean for Haas.
With the times very close to each other Qualifying looks like it will become a very close fought battle. The top 9 were covered by 1 second.
| | | | | | |
| --- | --- | --- | --- | --- | --- |
| Pos. | Driver | Team | Time | Gap | Laps |
| 1 | Kimi Raikkonen | Ferrari | 1:47.974 | – | 11 |
| 2 | Daniel Ricciardo | Red Bull | 1:48.189 | +0.215 | 18 |
| 3 | Sebastian Vettel | Ferrari | 1:48.297 | +0.323 | 12 |
| 4 | Valtteri Bottas | Williams | 1:48.504 | +0.530 | 17 |
| 5 | Lewis Hamilton | Mercedes | 1:48.635 | +0.661 | 20 |
| 6 | Nico Hulkenberg | Force India | 1:48.739 | +0.765 | 12 |
| 7 | Nico Rosberg | Mercedes | 1:48.742 | +0.768 | 19 |
| 8 | Felipe Massa | Williams | 1:48.783 | +0.809 | 21 |
| 9 | Sergio Perez | Force India | 1:48.915 | +0.941 | 12 |
| 10 | Romain Grosjean | Haas | 1:49.272 | +1.298 | 16 |
| 11 | Fernando Alonso | McLaren | 1:49.453 | +1.479 | 9 |
| 12 | Esteban Gutierrez | Haas | 1:49.631 | +1.657 | 16 |
| 13 | Jenson Button | McLaren | 1:49.665 | +1.691 | 10 |
| 14 | Kevin Magnussen | Renault | 1:49.716 | +1.742 | 11 |
| 15 | Pascal Wehrlein | Manor | 1:49.761 | +1.787 | 15 |
| 16 | Daniil Kvyat | Toro Rosso | 1:50.023 | +2.049 | 9 |
| 17 | Carlos Sainz | Toro Rosso | 1:50.078 | +2.104 | 9 |
| 18 | Jolyon Palmer | Renault | 1:50.241 | +2.267 | 11 |
| 19 | Felipe Nasr | Sauber | 1:50.420 | +2.446 | 13 |
| 20 | Esteban Ocon | Manor | 1:50.693 | +2.719 | 18 |
| 21 | Marcus Ericsson | Sauber | 1:51.319 | +3.345 | 5 |
| – | Max Verstappen | Red Bull | – | – | 2 |
Photo credit: Scuderia Ferrari Formula One