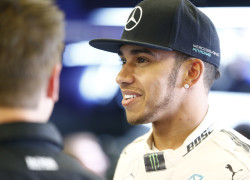 Lewis Hamilton will drop a total of 30-places down the grid after Mercedes replaced his Power Unit before Free Practice 2 for the Belgian Grand Prix.
Mercedes had given Hamilton a new PU before free practice 1 which put him on his 6th turbo charger and 6th MGU-H. That would've dropped him 15 places.
Just after Free Practice 2 got underway Mercedes confirmed that they have given Hamilton a new PU which meant that he took a 7th turbo and 7th MGU-H. With the addition of the second PU his total grid drop tally comes to 30-places.
Hamilton took a third new power unit for the weekend just before free practice 3. That makes it his 6th engine, 6th MGU-K, 8th MGU-H, and 8th turbo. That's a further 25-place grid penalty which brings his total grid place drop to 55. With the new regulations that were put in place for the 2016 season, Hamilton can not go any further than the back of the grid.
Racing Director at Mercedes, Paddy Lowe said that they will do the minimum amount of running during qualifying as Hamilton starts from the back of the grid anyway.
These new PU components gives Hamilton a pool of components to use till the end of the season without incurring any further penalties.