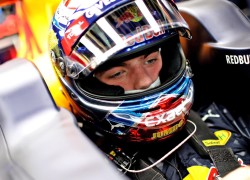 Red Bull Racing's Max Verstappen set the quickest time in the second free practice session for the Belgian grand prix.
The second free practice session ran in pristine sunshine during which Dutch driver Verstappen set a quickest time of 1:48:085 ahead of his Red Bull teammate Daniel Ricciardo. Force India's Nico Hulkenberg set the third fastest time ahead of Ferrari's Sebastian Vettel and the sister Force India of Sergio Perez.
Nico Rosberg and Lewis Hamilton ended the session sixth and thirteenth quickest on the timing sheets. Neither Mercedes driver ran the quickest supersoft tyre. The number 7 Ferrari of Raikkonen was seventh quickest without a clear run on the red-walled supersoft tyre while Haas F1's Romain Grosjean was eighth overall. McLaren's Jenson Button and Esteban Gutierrez in the Haas rounded out the top ten. The Williams duo endured a tough session as Valtteri Bottas and Felipe Massa ended 16th and 17th overall.
The long runs revealed a comparable pace on the yellow-walled soft tyre between the two Red Bull teammates with Vettel a few tenths adrift in the Ferrari. Hamilton, who will start the race from the back of the grid due to penalties, ran a long stint on the medium compound tyres which consistently hovered in the mid 1:55 bracket.
Final Standings Free Practice 2:
| | | | | | |
| --- | --- | --- | --- | --- | --- |
| Pos. | Driver | Team | Best Time | Gap | Laps |
| 1 | Max Verstappen | Red Bull | 1:48.085 | – | 27 |
| 2 | Daniel Ricciardo | Red Bull | 1:48.341 | +0.256 | 27 |
| 3 | Nico Hulkenberg | Force India | 1:48.657 | +0.572 | 30 |
| 4 | Sebastian Vettel | Ferrari | 1:49.023 | +0.938 | 27 |
| 5 | Sergio Perez | Force India | 1:49.100 | +1.015 | 27 |
| 6 | Nico Rosberg | Mercedes | 1:49.161 | +1.076 | 33 |
| 7 | Kimi Raikkonen | Ferrari | 1:49.244 | +1.159 | 30 |
| 8 | Romain Grosjean | Haas | 1:49.419 | +1.334 | 20 |
| 9 | Jenson Button | McLaren | 1:49.419 | +1.334 | 23 |
| 10 | Esteban Gutierrez | Haas | 1:49.648 | +1.563 | 23 |
| 11 | Pascal Wehrlein | Manor | 1:49.716 | +1.631 | 31 |
| 12 | Fernando Alonso | McLaren | 1:49.772 | +1.687 | 30 |
| 13 | Lewis Hamilton | Mercedes | 1:49.782 | +1.697 | 33 |
| 14 | Daniil Kvyat | Toro Rosso | 1:49.916 | +1.831 | 25 |
| 15 | Marcus Ericsson | Sauber | 1:50.083 | +1.998 | 27 |
| 16 | Valtteri Bottas | Williams | 1:50.151 | +2.066 | 19 |
| 17 | Felipe Massa | Williams | 1:50.157 | +2.072 | 29 |
| 18 | Carlos Sainz | Toro Rosso | 1:50.194 | +2.109 | 25 |
| 19 | Kevin Magnussen | Renault | 1:50.375 | +2.290 | 34 |
| 20 | Jolyon Palmer | Renault | 1:50.562 | +2.477 | 32 |
| 21 | Esteban Ocon | Manor | 1:50.659 | +2.574 | 25 |
| 22 | Felipe Nasr | Sauber | 1:50.719 | +2.634 | 24 |