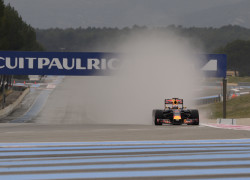 Pirelli concluded their two day wet weather tyre test at the Paul Ricard Circuit in the south of France to develop the 2016 Wet tyres.
More than 650 laps were completed and a total of 2 326km driven between 5 drivers and three teams. The circuit was chosen because of its very sophisticated variable sprinkler system which uses recycled rain water to simulate various wet weather conditions. This allowed the drivers to try out different tyre compounds.
The test was run over two days with Red Bull, Ferrari and McLaren participating in the test. Pirelli had extended the invite to all the teams where the cars from the 2015 season were used. No additional testing of components was allowed.
Kimi Raikkonen and Sebastian Vettel drove for Ferrari on Monday and Tuesday respectively while McLaren's Stoffel Vandoorne drove for both the days. Daniel Ricciardo tested for Red Bull on day one with Daniil Kvyat testing on day 2.
Over the two days, Ferrari's Sebastian Vettel was the fastest and completed the most laps(134) from all the runners.
The development of the tyres continues at Pirelli's headquarters in Milan by analyzing the telemetry from the teams and comparing that with its own data.
Pictures by courtesy Pirelli