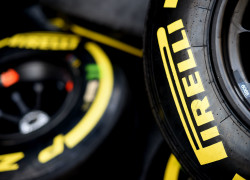 Pirelli have revealed their tyre nominations for the Chinese and Bahrain Grands Prix.
For both race weekends Pirelli have nominated the White Medium, Yellow Soft, and Red Super soft compound tyres.
Pirelli have selected the White Medium compound and Yellow Soft compound tyres that have to be used at least once in during the race.
"Each driver must have both these sets available for the race, and must use at least one of them," read the statement from Pirelli.
The super soft tyres will be available during Q3 of which the drivers must keep one set available for Q3. The same set will be given back to Pirelli if a driver qualifies in the top 10. Drivers qualifying outside the top 10 will be able to keep their set of the softest tyre compound.
Picture credit: By courtesy Pirelli