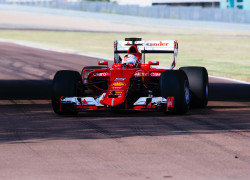 Pirelli have begun their testing of the 2017 tyre compounds on a modified Ferrari SF15-T at the famous Fiorano Test Track in Maranello, Italy.
Sebastian Vettel takes the wheel of the SF15-T on Monday and will hand over to Haas' Esteban Gutierrez on Tuesday. The focus on this first test will be for wet weather tyres. The Fiorano track will be artificially dampened with sprinklers.
The new 2017 tyre dimensions are 25% wider than the current tyres and both the intermediate and full wet tyres will be test over the next two days.
Red Bull will get the first crack at the 2017 slick tyres on 3 and 4 August at Mugello. Mercedes will have their chance in September at Paul Ricard Test Track in France.
CALENDAR BY DATE
TEST ON MULE CARS – 2017 SIZES
Session
Date
Test Days
Circuit
Car (s)
Tyres kind
1
Aug 1-2
2
Fiorano
FER
Wet
2
Aug 3-4
2
Mugello
RBR
Slick
3
Sep 6-7
2
Barcellona
FER
Slick
4
Sep 6-7-8
3
Paul Ricard
MGP
Slick
5
Sep 21-22
2
Paul Ricard
MGP
Wet
6
Oct 12-13
2
Barcellona
MGP
Slick
7
Oct 14-15-16
3
Abu Dhabi
RBR
Slick
8
Nov 2-3
2
Abu Dhabi
RBR
Wet
9
Nov 14-15-16
3
Abu Dhabi
FER
Slick
10
Nov-29
3
Abu Dhabi
MGP
Final valid
FER
RBR

Images by courtesy Pirelli